"Arise my beloved, my dove, my beautiful one, and come! In gratitude for the life and vocation of Sister John Mary Adshead, who heard the voice of the Lord calling with many different accents: from New Zealand, to England, to America, to Regina Laudis where her heart has come to rest; may the vows of love she has made today fortify her to stand with all those who strive to build up the Body of Christ in love, each one of us, whether as apostles and prophets, evangelists or consecrated women, bringing others to God through the beautiful,
Let us pray to the Lord."
"In this time of intense political turmoil at home and abroad may Sister John Mary draw on the inspiration of Saint John Paul II, consummate diplomat, who found his core strength in Mary the Mother of God; may he help her to find new expressions of her mission as a contemplative woman of prayer strong enough to deal with all the 'stuff that happens',
Let us pray to the Lord."
"In gratitude for all those gathered with us today from far and wide, and all those who are with us in a communion of prayer, in particular we give thanks for the presence of Father Rod Strange who brought Sister John Mary into the Church at Oxford, and who so fittingly is here with us today to see the fragrant flowering and fruit of those initial steps toward Christ's Church; may their mutual love of Blessed John Henry Newman continue to be a bond between us and be a source of spiritual nourishment for which the world is so hungry,
Let us pray to the Lord."
"May the longed for rain, reminder of England, be a tangible sign to us of the Lord's Grace poured out on this day,
Let us pray to the Lord."
Mother Abbess Lucia's Prayers of the Faithful at the Profession Mass

Here in the community the vows that you take are, as I would understand it, declarations of your love, pledges of love. The vows that we take do not cause the love. When we tell somebody that we love them, that doesn't make us love them, but the expressing of that love, the affirming of that love strengthens, clarifies and deepens the love that we have for that person. Today, Sister John Mary, your vows are a profession of love, a declaration of love to fulfill the Gospel life within this Benedictine Community of Regina Laudis.
Father Rod Strange in his homily at the First Profession Mass
On Saturday, October 22nd, the feast of Saint John Paul II, Sister John Mary Adshead made her First Profession of Vows to God through the Community of the Abbey of Regina Laudis. Monsignor Roderick Strange, Professor of Theology at St. Mary's University in London, was the main celebrant and homilist at the Profession Mass. Father Iain Highet, Pastor of the Immaculate Conception Church in Norfolk and St. Joseph's Church in Canaan and Father Robert Tucker, Pastor of St. Anthony of Padua Parish in Litchfield were concelebrants. Friends and colleagues, especially the Art Shop volunteers who work closely with Sister John Mary, participated in the First Profession Mass, followed by a celebration at the Jubilee Barn.


Sister John Mary was born in Christchurch, New Zealand to academic parents and attended school there. She later went to boarding school in England, and read Classics and Modern Languages at Christ Church Oxford. Her interest turned to politics while studying at the Institut D'Etudes Politiques in Paris, and she went on to gain a Masters in European Studies at the London School of Economics.

It was during this time when we were studying the history of Europe that the Berlin Wall came down. It was very exciting, and our class went to Berlin for the first democratic elections in what was still then Eastern Germany. At the time I didn't really understand what a major part Saint John Paul II had played in bringing about the collapse of Communism, but I have since read a lot about his critical role, in particular his constant emphasis on the importance of the freedom of the individual. I was very happy that I made my Profession of Vows on his Feast Day.
Sister John Mary went on to work in the political community in England before moving to America. She obtained an MBA at Wharton Business School and then made New York City her home. After a successful career in marketing, she entered the Abbey of Regina Laudis in 2008.

In his homily Father Rod shared profound insights into the nature of Vows:

The Vows we make are declarations, pledges of love. Making Vows does not cause the love. But the Vows articulate our love, confirm and clarify it, and we hope, bring it to a deeper level.

It was especially moving for Sister John Mary to have Father Rod as main celebrant and homilist because as Chaplain of Oxford University, Father Rod received Sister John Mary into the Catholic Church while she was as student there. In contemplating Sister John Mary's religious name, Father Rod shared a story about the mysterious workings of God: 71 years ago he was baptized in a church named Our Lady and St. John and almost twenty-four years later was ordained in the same church. In speaking of faithful perseverance, Father Rod referred to the 1st reading from the Song of Songs chosen by Sister John Mary:

The fig tree puts forth its figs, and the vines, in bloom, give forth fragrance.

Speaking to the heart of each one present, he stressed that perseverance has its own fragrance which is the fruit of faithful ministry. Picking up a theme close to Sister John Mary's heart, he reminded us that fragrance is a response to the Lord's initiative, to His fragrance.

THE "FRAGRANCE OF CHRIST"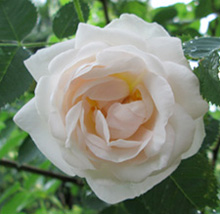 In continuity with her Oxford days, Sister John Mary teaches Latin and also looks after the large rose garden and has a studio in which she makes perfumes and soaps. It is particularly meaningful to her to provide the Archdiocese of Hartford with their Holy Chrism Fragrance each year, made from a recipe specially developed for the Abbey in the 1960s.

I have always loved beautiful scents, like the smell of a rose: they represent for me an intoxicating element of Creation, the Holy Spirit's 'inebrietas' of which we sing. A fragrance can be so evocative of a place, a person, even a time of life. There are many references to the sacramentality of fragrance in the Bible, such as David's anointing, or the Song of Songs, or Mary Magdalene's costly oils, but 'the fragrance of Christ' that Paul describes in Corinthians is one that has many layers of meaning for me. I was looking for God, and it was the fragrance of Christ that led me here to Regina Laudis. Moreover, it was Archbishop Blair of Hartford who noted that we, as a contemplative body of women, are the fragrance of Christ for others. People who are searching for God are drawn here, and I like to think that my work with perfumes is a way of sending out the fragrance of Christ to the world.



CHRIST CHURCH CATHEDRAL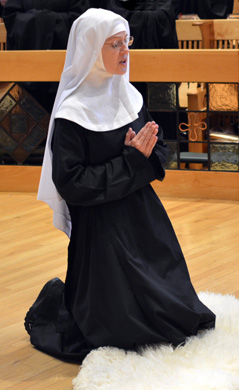 Sister John Mary's prayers have been particularly oriented towards praying for the restoration of the Christ Church Cathedral in New Zealand which was badly damaged—but not irreparably—in the 2011 earthquake in that city.

I grew up and found my faith in that cathedral, and I really feel its reconstruction is vital to the rebuilding of the City—it's an icon of Christchurch.



Sister John Mary's beautiful essay on What Christ Church Cathedral Means to Me was published in the local Christchurch Press and is available here for you to read/download.



These two 'Christ Churches'—Christchurch, New Zealand and Christ Church, Oxford—were very formative places for me and symbolize the two Poles, North and South, which my life has spanned. Abbess David recently said to me, 'The Abbey is the Third Pole' and my Vow of Stability places me firmly here.




The Cathedral after the 2011 earthquakes

Christchurch Cathedral, New Zealand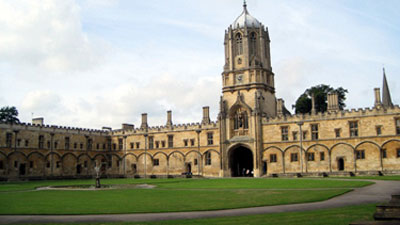 Christ Church, Oxford, England
Gallery of Sister John Mary's First Profession Mass and Celebration