For Mr. and Mrs. Owen and the Owen family, with us today with all their progeny, and for all who have helped prepare Gwyneth in her first experience of life in community, to move into this new community into which she has been called and into which she will be clothed today.

May Gwyneth stay close to the vision of the beatitudes which raise all of us through community to communion, communion with Christ, into communion with one another as we explore our hearts, recognizing Christ in the depths of them, and recognizing Him in the depth of each one's heart, and doing all we can to offer our lives to foster that growth in each. Let us pray to the Lord.
Mother Abbess' Prayers of the Faithful for Clothing Mass

Blessed are the pure in heart, for they shall see God.
Matthew 5:8, Gospel for the Feast of All Saints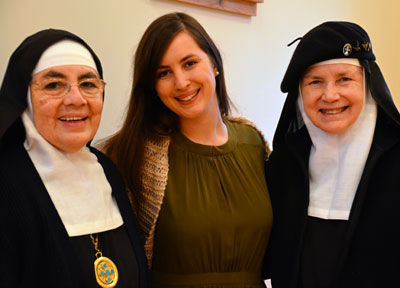 On November 1, 2014, the Solemnity of All Saints, the Abbey celebrated the Monastic Investiture of postulant Gwyneth Owen who was clothed in the monastic habit and received the name Sister Teresa Benedicta of the Cross. Father Iain Highet, Pastor of St. Joseph Church in Canaan and Immaculate Conception Church in Norfolk CT was the main celebrant and homilist at the Mass. Father Thomas Hickey, Pastor of St. Stephen Church in Hamden, and Father John Siberski S.J. of Campion Center in Weston MA were concelebrants. Gwyneth's parents Maria and Hugh Owen, her siblings, numerous nieces and nephews, and friends of all ages participated in the liturgy and celebration.

Gwyneth grew up in Virginia in a close-knit family of nine children. Her parents met while they were students at Princeton University. When her mother, a Classics major, was directing a performance of "As You Like It" a young actor auditioned for the part of the good duke. When she heard him read "And this our life, exempt from public haunt, finds tongues in trees, books in the running brooks..." she was smitten. Gwyneth's parents, converts to Catholicism, instilled in their children their zeal for their Faith and their conviction that whatever one is called to do in life, one must make the world a more beautiful place. Gwyneth describes her family in this way:

We grew up together with love of language, literature, playing outside, hiking, learning to listen to one another and to look out for one another.

Gwyneth credits being the middle child in a family of nine children as making her sensitive to the needs of others.

Gwyneth received a Bachelor of Arts in Liberal Arts from Thomas Aquinas College in California with a Double Major in Theology and Philosophy and a Minor in Mathematics. She attended Harvard University's Ukrainian Summer Institute and completed graduate courses in Ukrainian, Linguistics, and Language Politics in the Ukraine. She had planned on finishing graduate school after college yet the opportunity to care for her paternal grandparents at the end of their lives presented itself. She cherished this time as a period that opened up the richness of her Welsh, German, English and Mexican genealogy and feels this experience prepared her for contemplative life.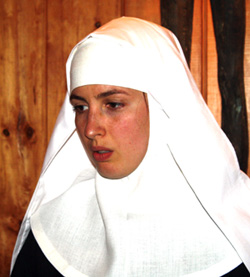 In his homily Father Iain took as his theme the Communorum Sanctorum, the Communion of Saints to which we are called as we move into the heart of God. The Beatitude of the Gospel Father accented in relationship to Gwyneth's Clothing was:

Blessed are the pure in heart...

and its relationship to true freedom of choice. In responding to love by love, the heart decides and chooses. As Gwyneth takes this step, she is drawn to "holy things for holy people", she wants to be changed and she will be. Our prayer for her is that she will see God in the community, in what she does in obedience and and find God in her heart. In being "clothed into a community" we allow ourselves to be contained and loved.

Father reflected that the saints became holy because they identified with something in creation, which we in turn identify with them. For Gwyneth her entrance point into the New Creation Christ won for us is through food. During her year in our monastic internship program,working in the dairy, bakery and garden, she became very interested in fermentation and the role of microorganisms in preserving food. She furthered her knowledge of all things fermented working as an intern at the Momofuku Test Kitchen and as a hoop breaker at Beecher's Cheese in Manhattan. Since entering the Abbey she has expanded our line of fermented products with nutritional and medicinal characteristics for the health of the community, such as wild leeks, kombucha, kefir, kimchi, and nettle tea. Sister Teresa Benedicta summed up her vocation to heal through food in this way:

I want to spend my life making healthy food for people I love.




Gallery of Monastic Investiture of Sister Teresa Benedicta