| | |
| --- | --- |
| In grateful recognition of honorable and selfless service during a time of war in the Armed Services of the United States of America...This medal signifies that you are a true Connecticut and American hero. | |

One June 21st, 2013 Dr. Linda S. Schwartz, Major, USAF (Ret.), Commissioner of Connecticut Department of Veterans' Affairs, presented Mother Irene Boothroyd with the Connecticut Veterans Wartime Service Medal. On behalf of Governor Dannel P. Malloy, Commissioner Schwartz thanked Mother Irene for her faithful service to our nation and state. Mother Abbess and the Regina Laudis Community are extremely grateful to members of VITAS who arranged for Mother Irene to receive this honor. Special thanks to Mary-Ellyn Blake, RN, Captain, CT Army National Guard (Ret.), who served at Walter Reed Hospital during Desert Storm and Theresa Bachhuber, RN, General Manager of Middlebury VITAS.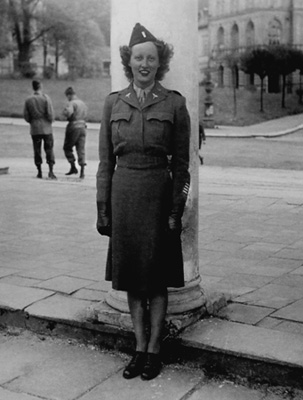 Mother Irene, née Helen Boothroyd, is a native of Maynard, Massachusetts, and a Registered Nurse. In April of 1943 she joined the United States Army Nurse Corps and on June 1, 1943 boarded the Queen Mary which would carry 25,000 troops to Europe. On June 16, 1944 (D-Day plus 10) Captain Boothroyd crossed the English Channel with the 67th Evacuation Hospital and landed at Utah Beach in Normandy. She would later participate in the drive across France and Belgium, caring for the wounded in the Battle of the Bulge in the Ardennes during January 1945. She would continue with the 67th into Germany in February 1945 and later Czechoslovakia. During the Korean War Captain Boothroyd cared for the wounded State-side.

Read Mother Irene's life story and reflections on her experience of being an Army Corps Nurse in the European Theater during World War II.


South Pacific, the musical set in the Pacific Theater of World War II, was performed at The Gary-The Olivia Theater of the Abbey in August, 2012. The performances were dedicated to Mother Irene and her dear friend Margaret Barton Brokaw. Mother Irene and Margaret both graduated from the Carney Hospital School of Nursing, Boston in 1942. Margaret served in the Army Nurse Corps in Anzio and Monte Cassino. Friends for life, they are seen here enjoying the show and one another.