O God, who didst command Blessed Benedict, withdrawn from the turmoils of the world, to wage his warfare under Thee alone, grant, we beseech Thee, unto this Thy handmaid, who hastens to Thy service under his teaching, the constancy of perseverance, and perfect victory unto the end. Through Christ our Lord. Amen.
Blessing of the New Novice
On May 10, 2013 the Abbey celebrated the Monastic Investiture of postulant Stephanie Cassidy who was clothed in the monastic habit and received the name Sister Kateri Tekakwitha. Stephanie brings the gifts of her American Indian and Lithuanian genealogy to her monastic life. A graduate of Pratt Institute of Fine Arts, Stephanie was a conservation intern at the Smithsonian's National Museum of the American Indian. During her time at the Abbey as a Monastic Intern and as a Postulant, her passion has been working with the beef herd and designing and fabricating leather products from the hides of the herd.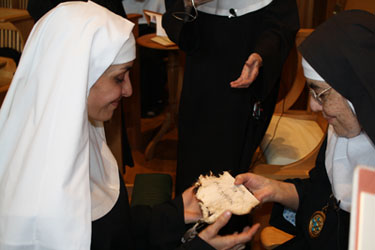 Monastic Investiture is the moment when the candidate transitions from being a postulant to entering the Novitiate, bringing the riches of her genealogy and her life experience to this point. For this occasion Stephanie was joined by family and friends including her uncle John Narmont, beloved friend Barbara Schifeling, and family friend Dr. Patrick Pirozzi. On the vigil of the Clothing Stephanie's close friends, musicians from the Buffalo area, offered a concert featuring Stephanie's favorite Beatles' songs such as "Come Together" and Sting's "Roxanne". Stephanie chose to accent her Native American roots in the garments she wore for the day. Mother Abbess celebrated Stephanie's roots and the gifts of her culture in choosing the name Kateri Tekakwitha, the first canonized Native American Indian.



Gallery of Monastic Investiture of Sister Kateri Tekakwitha