Reverend Mother Catherine of Alexandria (née Kathleen Janet) Talbot, 73, member of the Abbey of Regina Laudis, died at the Abbey on Thursday, January 31, 2013, Feast of Saint John Bosco, after a long illness. She had been manager of the Monastic Art Shop for over twenty years and was devoted to the many volunteers who staff the Art Shop. A chemist by profession, Mother Catherine brought that training to her work in the Abbey herb gardens and as Administrator of the Abbey herb department, known as La Reine de Saba (Queen of Sheba). She created many herbal preparations and perfumes, including the "St. Cecilia" chrism fragrance. She brought her gift for administration to the Financial Office of the Abbey, a work to which she was committed for many years even during the final period of her illness.

Kathleen Talbot was born on March 14, 1939, in Laramie, Wyoming, the oldest of four children to Edward James and Janet Bare Talbot. Her father Edward taught Agricultural Economics at the University of Wyoming, served in the U.S. Navy in WWII, and worked for many years for the Bureau of Reclamation, specializing in contract sales of water and hydroelectric power. Her mother Janet taught violin and worked in the Department of the Interior in Washington DC, helping to create their first inter-library loan system, and later worked with the Bureau of Reclamation in Denver.

Growing up in the West, Kathleen's great love was camping, which she did often with her family and extended family. This love of camping was also nurtured through her participation in the Girl Scouts throughout her youth.

Kathleen earned a Bachelor of Arts degree in Chemistry from the Catholic University of America and a Master of Science degree from the University of Sheffield, England. Her first employment as a chemist was as a technician at Hazleton Laboratories in Falls Church, VA, where she was responsible for quality control of basic elemental analysis of anti-cancer drugs being developed by the National Institutes of Health (NIH). Her graduate research was on the effect of glycerin on aqueous soap solutions and this work culminated in a Master of Science degree in Colloid Chemistry. She was a Research Assistant to Dr. A.S.C. Lawrence at the University of Sheffield. When she returned to the United States, she worked as an Analytical Chemist at the USDA Agriculture Research Service in Beltsville, MD doing basic research on problems of plant nutrition, particularly in ion uptake by plants.

Kathleen married Louis N. Stief on November 30th, 1963. They had two children, Andrew and Lorraine. In 1970, Kathleen moved with her family to Southwest Washington, DC where her children attended DC public schools. In addition to raising two children, Kathleen became very active in local organizations that supported and built the community of Southwest Washington, DC.

From 1976-1978 she was President of the Southwest Neighborhood Assembly, a volunteer civic association serving 15,000 residents in areas of planning, development, zoning and environmental issues. During her tenure as its President, the Assembly received the 1978 Metropolitan Washington Volunteer Activist Award "for its voice in municipal affairs and improvement of life in Southwest Washington". She was the Editor of The Southwester, the Assembly's monthly community newsletter, which was awarded the Washington Post Trophy in 1977 for its outstanding quality. Kathleen served for 3 months in 1978 on the Transition Task Force of DC Mayor Marion Barry, researching structure, programs and problems of the 36 Advisory Neighborhood Commissions in the city and the Community Services Division of the DC Government. One of the projects she supported which came to fruition during her time in Southwest Washington was the building of two low-income housing apartments known as "Greenleaf". From 1980-1983, Kathleen worked as Administrative Secretary for the National Catholic Educational Association, Washington, DC, in the Religious Education Department.

Even while active in so many community associations, Kathleen had a long and deep attraction to contemplative life. Her daily reading of the Rule of St. Benedict was a touchstone for her during difficult years that culminated in the annulment of her marriage in 1976. Through her association with Fr. Joseph Fox, O.P. she was introduced to Regina Laudis. With the support of her children, now stabilized as young adults,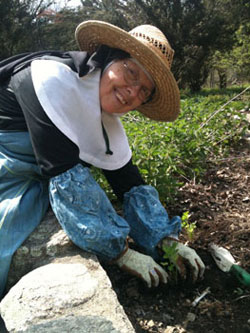 Kathleen Stief entered the Abbey of Regina Laudis as a Postulant on September 30th, 1983. Very soon after entering the Abbey and throughout her monastic life,Kathleen worked with herbs, growing and harvesting them and creating herbal preparations, including the well-known "St. Cecilia" chrism. In 1984, she became administrator of the Abbey Herb Department, La Reine de Saba.

Kathleen entered the Novitiate on January 25, 1985, Feast of the Conversion of St. Paul, receiving the name of Sister Catherine of Alexandria. She made her first vows September 8, 1990, Feast of Our Lady's Nativity, and her perpetual vows on July 29, 1996, Feast of Saints Martha, Mary and Lazarus, Hosts of the Lord. Mother Catherine was Consecrated on July 11, 2007, Feast of St. Benedict, at the hands of Archbishop Henry J. Mansell.

With her love of the Divine Office, Mother Catherine was very active as a Mistress of Ceremonies in the Liturgy Deanery of the Abbey. Her gracious demeanor was appreciated by those she served for many years at St. Joseph's guest house as well as by numerous guests who worked with her in the herb gardens.
A TREE GROWS FROM THE ROCK

Mother Catherine of Alexandria's great grandfather, David Reid, worked for the Union Pacific Railroad. He was known as the Water Man who was responsible for replenishing the water in the train's engine. Midway between Laramie and Cheyenne in the parched landscape of Buford, Wyoming there was a tree growing out of a large boulder near the line of the Union Pacific Railroad. Whenever the train passed that way, the Water Man would drench the tree with a bucket of water. Tradition holds that the line of the railroad was slightly adjusted to avoid destruction of this indomitable tree. For Mother Catherine, this phenomenon, of a tree growing from solid rock, was a deep symbol of her journey and monastic life. It inspired the image on her Clothing card and the accompanying quotation.

I planted, Apollo watered, but God gave the increase, Alleluia.

1 Corinthians 3:6