THANK YOU FOR MAKING OUR MEMORIAL DAY TAG AND BAKE SALES SO SUCCESSFUL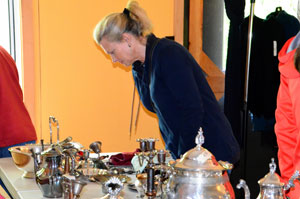 On Saturday May 24th at 8:00 am lines were already forming outside our Jubilee Barn and Storage Barn for our 3rd annual tag sale to benefit our New Horizons renovation project. When we opened the doors at 10:00 customers streamed in to peruse and buy one-of-a-kind objects, old and new, gathered from attics and storage spaces we have cleared to begin the second and final phase of our building project. Many of our customers went home carrying delicious cakes and cookies from the bake sale along with carefully chosen treasures from the tag sale.


We are extremely grateful to our team of volunteers and the Brothers of Regina Laudis who worked for weeks transporting, organizing and pricing the tag sale items as well as greeting and assisting customers with their purchases. It was wonderful to see familiar faces and greet new friends visiting the Abbey for the first time. After shopping many customers visited our Church Jesu Fili Mariae, our 18th-century Neapolitan Crèche and the Art Shop.

Enjoy this gallery of happy customers and ever-cheerful volunteers at our 2014 tag and bake sales.