The shared meal elevates eating from a mechanical process of fueling the body to a ritual of family and community, from the mere animal biology to an act of culture.
Michael Pollan, In Defense of Food: An Eater's Manifesto
As it happened, Father Iain's sermon that morning was on the subject of fermentation. The day's text was the exchange between Jesus and the Pharisees. What was Jesus' attitude to the covenant of the Old Testament? He did not seek simply to reject it, Father Iain said. 'No one who has been drinking old wine desires new,' Jesus tells the Pharisees. Tradition, like an old wine, is too precious to throw out. And yet Christ's gospel did introduce something new and transformative, the result of a process Father Iain likened to fermentation. In the same way that 'fermentation releases energy in the process of breaking down the wheat, grape juice or curds; so Jesus is saying that his interpretation and revelation of the covenant is a life-giving and transformative mediation of the covenant...'
Michael Pollan, Cooked,
Part IV Earth

Premiere of Cooked Directed by Alex Gibney in Collaboration with Michael Pollan
Explored through the lenses of the four natural elements—fire, water, air and earth—COOKED is an enlightening and compelling look at the evolution of what food means to us through the history of food preparation and its universal ability to connect us. Highlighting our primal human need to cook, the series urges a return to the kitchen to reclaim our lost traditions and to forge a deeper, more meaningful connection to the ingredients and cooking techniques that we use to nourish ourselves.
Synopsis of the documentary film Cooked from Michael Pollan's Website
On February 19, 2016, Netflix began streaming an original 4-part documentary series based on journalist and author Michael Pollan's book Cooked: A Natural History of Transformation. Regina Laudis is featured in the book and Part IV of the film entitled: Earth—Fermentation's Cold Fire.

Background: While doing research for his book, Michael Pollan came to Regina Laudis in 2013, seeking a hands-on experience of making artisanal cheese and to gain a better understanding of fermentation and the principles involved in the natural ripening process. We began making our Bethlehem cheese at the Abbey in 1977, according to a traditional technique taught to us by a native of the Auvergne, France. Microorganisms play an important role in the development of aroma and consistency in cheese. Because the Bethlehem cheese is made with the raw milk of our hand-milked cows without the addition of commercial cultures of bacteria or fungi, it provides a model for the study of microbial ecology within a natural environment. When our Community made the decision in 1987 to send four of our members to the University of Connecticut for advanced degrees in agriculture, the biodiversity of cheese-ripening fungi became the basis of Mother Noella Marcellino's doctoral research in Microbiology. With the aid of a Fulbright Scholarship and a subsequent three-year fellowship from the Institut National de la Recherche Agronomique (INRA), she was privileged to travel to six traditional cheese-making regions of France to collect native strains of the yeast-like fungus Geotrichum candidum and to assess its biochemical and genetic diversity in her host laboratory.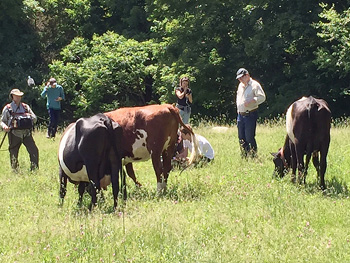 The study revealed an enormous diversity of natural strains that had been empirically selected by the cheese-makers through cheese technology including temperature and salting, the use of materials such as wood and straw for ripening, and adjustments to the humidity and temperature of the cheese cave. This diversity likely contributed to the acknowledged diversity of flavor found in French cheeses. Mother Noella's project also included the study of the lore and history of the regions which reflect the cultural diversity of populations from which local cheeses arose.



I soon came to see that, for her (Mother Noella), the miracles of Christ were many, and could be witnessed in the unlikeliest of places, including a barrel of milk or under a microscope. Several of Christ's miracles rather famously involve fermentation, as she pointed out to me with a twinkle. Like bread and wine, cheese is the transformation of ordinary matter into something extraordinary, a process suggestive of transcendence.

Michael Pollan, Cooked, Part IV Earth


When Michael Pollan requested to visit Regina Laudis, we asked that he spend at least 24 hours here to experience the monastic rhythm and context out of which our cheese-making and research arose. As a monastic community with a 400-acre working farm, we have an obligation to wise land stewardship and sustainability. Blessed with a large community, we have been able to maintain hands-on traditional techniques and have been committed to the production of value-added products for many years. We have been devoted to the preservation and conservation of heritage breeds of cattle, particularly the Dutch Belted and now the Milking Shorthorn. These breeds are well suited for grass based dairying and their milk is excellent for the small scale production of dairy products.
In pursuing advanced degrees in agriculturally-related areas we not only wanted the professional accreditation necessary to bring our land into the future, but hoped to encourage other small farmers in New England seeking an alternative to agro-business. Thus we welcomed collaboration with Michael Pollan in support of sustainable food systems, first in the research for his book Cooked and then in the making of the documentary.

We were blessed to have Peter Bull as the director of Episode IV of Cooked: Earth—Fermentation's Cold Fire. The depth of his interviews and preparation (including reading Mother Noella's dissertation!) made two full days of filming dynamic and exciting. It was a joy to work with producer Kristen Vaurio, cinematographer Sean Kirby, sound engineer Michael Jones and the entire film crew. We are sure that their work will be an outstanding expression of Michael Pollan's passionate conviction that in the words of Wendell Berry, "Eating is an agricultural act."

Watch the Official Trailer for Cooked.


(Source: YouTube Cooked—Official Trailer—Netflix)

| | |
| --- | --- |
| | Two episodes of the series, Cooked-Fire and Cooked-Air, premiered in the Culinary Cinema Section of the Berlinale—Berlin International Film Festival on February 16, 2016. |



There's an Aboriginal tribe in Australia that fire-roasts lizards, a Connecticut Benedictine nun and microbiologist who makes French cheese, Peruvian brewers who ferment a traditional beverage with human saliva and a Moroccan granary powered by rivers.

Lee Svitak Dean, Minneapolis Star Tribune




The series crosses the continents, looking at the differences and similarities between different food cultures. While Pollan's message isn't new to people familiar with his writing -- we need to spend more time cooking for ourselves, or we'll face more food-related health problems -- it's told with breathtaking cinematography as well as insights from food experts around the world.

Grant Butler, The Oregonian/Oregon Live




Much of the information presented in the Cooked Netflix series won't be new to foodies who follow Pollan's work. It touches on the rise of industrialization and processed food, the beneficial gut microbes that thrive when we eat fermented food, and the importance of eating meat that came from ethically treated animals. However, even viewers obsessed with health food trends will be seduced by the series' vibrant scenes, which provide a glimpse of how cultures around the world make—and break—their proverbial bread.

Jenny Luna, Mother Jones




But the show offsets Pollan's sentimentality with dynamic and frankly gorgeous vignettes of people hunting, cooking, and eating—and not simply for the pleasure of sitting around a glowing hearth. We see a mother in Marrakech preparing khubz by hand and sending her son off with the risen bread dough to be baked in a communal oven. We see the Martu people of Western Australia hunting goanna (a large species of monitor lizard) and burying a bush turkey in the embers of a fire. These scenes take us out of Pollan's nicely appointed Berkeley home and into the real world, where people are cooking as they have for generations.

Matthew Zuras , Munchies




The four parts of the series—'Fire,' 'Earth,' 'Water,' and 'Air'—mirror the cooking-as-alchemy theme of the book: that the kitchen is more than a room where we go when hungry, it is a holy place where the gifts of nature are transformed into physical, emotional, and even spiritual forms of sustenance.

Director Alex Gibney was given nearly free reign to interpret the book according to his own artistic and intellectual sensibilities, which are considerable, having earned him an Academy Award, multiple Emmys, and praise as 'the most important documentarian of our time,' in Esquire. Under Gibney's eye, any material from the book that might have come off in film format as tiresome political diatribe or boring cooking show banter becomes neatly wrapped in an uplifting cinematic journey that makes milling wheat or learning to butcher a pig as magical as anything in a David Attenborough wildlife special.

The series' most poetic moments come in the 'Air' segment, however, where rising yeast spores glistening in the sunlight and slow motion sequences of women squeezing and kneading moist dough are recurring visual motifs that exalt bread, the sole subject of the episode, as the most sacred of foods.

Brian Barth, Modern Farmer




Cooked may sound worthy, but in the hands of these heavyweights it becomes a sumptuous ode to slow cooking – and a call to get back to the joy of simply preparing food for the people you love.

Dale Berning Sawa, The Guardian




In Earth, it's fermentation, presented as a magical alchemy of ingredients and microbes, with a cheese-making nun revealing the more esoteric case that the death of yeasts atop an aging wheel of dairy solids, and their resultant positive impact on the cheese itself, is a powerful metaphor for the afterlife. In Air, bread is presented as the driving force of civilization. In Fire, the focus on a group of Australian aborigines hints at the devastating result of removing ourselves from our ancestral culinary roots.

Rebecca Tucker, National Post




This is Michael Pollan the food historian, but Michael Pollan the crusader is always hovering, ready to remind us how far we have wandered from our culinary roots. In one way or another, each of these episodes mourns our detachment from our food and how to prepare it.

Neil Genzlinger, The New York Times


Read the full articles quoted above about the Documentary Series Cooked:

The author of the bestselling book 'Cooked' turns to film to share his love of home cooking, Lee Svitak Dean, Minneapolis Star Tribune, February 17, 2016

12 things we learned watching 'Cooked,' Michael Pollan's new Netflix docu-series about food, Grant Butler, The Oregonian/Oregon Live, February 19, 2016

Netflix and Grill: Michael Pollan Takes His Food Evangelism to the Small Screen —A global food tour reveals cooking in its most humble form, Jenny Luna, Mother Jones, February 20, 2016

Michael Pollan Wants You to Get Off the Internet and Back in the Kitchen, Munchies, February 27, 2016

Michael Pollan Goes Primetime on Netflix, Brian Barth, Modern Farmer, February 19, 2016

Cooked: the importance of making your own food, Dale Berning Sawa, The Guardian, February 4, 2016

Michael Pollan's Netflix series Cooked says the art of cooking is in the very foundation that makes us human, Rebecca Tucker, National Post, February 22, 2016

Review: Michael Pollan and Pangs of Guilt, Not Hunger, Neil Genzlinger, The New York Times, February 17, 2016

Read excerpts or order the book Cooked.
Netflix began streaming the documentary February 19, 2016. If you do not have a subscription to Netflix, a DVD of the documentary series will be available in the near future.