"...many of the things that you find in monastic life, you found in serving in the army."
"Part of my own being was to see in each one of our patients the image of Christ. That was part of me. So that you always had that feeling that this was what you were serving. And when you're serving your country, you're serving your country, but you're also serving God, in a different way. But then when I came to the abbey, to me it wasn't such a drastic, shall we say, difference, because many of the things that you find in monastic life you found in serving in the army. Like there was a call, there was a commitment, there was living with people whom you learned to love, there was always being true to what you were doing and to serve in the best way you could."
"Two of our first 10 patients were German prisoners. And when you saw them, you're a nurse, so you're taking care of humanity. And you didn't look at them with any disdain. You looked at them with pity because they were wounded too. And they were brought in and treated the same way as our own American troops were."
Mother Irene Boothroyd, O.S.B. WWII Army Nurse



Reverend Mother Irene (née Helen) Boothroyd, 93, member of the Abbey of Regina Laudis, died at the Abbey on July 19, 2013, after a short illness. A registered nurse by profession, Mother Irene was a World War II Veteran who landed at Utah Beach in Normandy on June 16, 1944 (D-Day plus 10) with the 67th Evacuation Hospital. As a member of the Army Nurse Corps, she participated in the drive across France and Belgium with General Patton's 3rd Army, caring for the wounded in the Battle of the Bulge in the Ardennes during January 1945. Lt. Boothroyd would continue with the 67th into Germany in February 1945 and later Czechoslovakia, attaining the rank of Captain. During the Korean War she cared for wounded soldiers State-side.

Helen Boothroyd entered Regina Laudis in 1964 and when clothed as a novice in 1965 received the name Sister Irene (Gr. Peace). To her monastic life she brought her military discipline and willingness to serve "in the front lines" in whatever capacity was needed by the community, especially as the nurse in charge of the Monastic Infirmary for over 50 years. She had a fierce love for and dedication to our Foundress, Lady Abbess Benedict, caring for her physically and supporting her vision for the Foundation of Regina Laudis. For years she extended hospitality through her care of the Abbey guesthouses and in providing transportation at a time when she was one of very few community members with a driver's license. To this day she is remembered and held in great esteem by doctors and health care professionals in the Waterbury area. Within the Abbey Mother Irene was a Formation Mother and trusted Member of the Council until her death.

Helen Boothroyd was born on May 14, 1920, to Harry and Mary Boothroyd in Maynard, Massachusetts. She was the middle child, with two brothers and two sisters. Her father worked as a weaver for the American Woolen Company, the main industry in Maynard, and her mother was a homemaker. Although a child of the Depression, Helen remembered that because her father had work, her family was able to help others.

We always had enough to eat, but you didn't even think of the fact that luxuries weren't a part of life — because that's the way it was.



After graduating from Maynard High School, Helen began her training at the Boston Carney Hospital School of Nursing in 1938. Her studies were interrupted for several months due to serious illness. She almost lost her life to pneumonia and pleurisy at a time when antibiotics such as penicillin were not yet available.

I probably would have got better faster if I had had penicillin, but I lived regardless.

A very determined Helen Boothroyd made up all of her missed classes and two days after graduation, took her nursing boards. She became a registered nurse in 1942.

In early March 1943, desiring to support the War effort, Helen took the trolley car to to Commonwealth Avenue in Boston and presented herself for enlistment at First Army Headquarters. She passed her physical and was sworn in that day. After one week at Fort Devens in Massachusetts she received orders that she was going overseas and on June 1, 1943 boarded the Queen Mary which would carry 24,000 GIs, 1,000 officers, and 40 nurses to the European theater. (And as she was happy to point out

...a few famous people like Ernest Hemingway and Sarah Churchill

) She recalled that Mass was celebrated on the deck of the ship every afternoon at 4:00 and since it was the living quarters of the men, GIs were lying around and playing their harmonicas.

Some came to mass, whatever they'd want to do. But it was a very profound experience because as you looked across the deck, full of men, and then you looked out at the expanse of the ocean—it was almost like, you know, infinity, as far as you could see.

The 6-day journey ended in Scotland and Mother Irene remembered the warm welcome of the Red Cross with coffee, donuts and bagpipes!


After months of preparation in England, on June 16, 1944 (D-Day plus 10) Lt. Boothroyd crossed the English Channel with the 67th Evacuation Hospital and landed at Utah Beach in Normandy on June 17th. She would later participate in the drive across France and Belgium, caring for the wounded in the Battle of the Bulge in the Ardennes during January 1945. She would continue with the 67th into Germany in February 1945 and later Czechoslovakia. In the mysterious workings of God, Helen returned to the United States from the European Theater on the ship, the S.S. Argentina, in late October, 1945.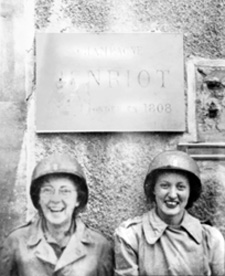 The following year Lady Abbess and Mother Marie Aline would take the very same ship, still being used for troop transport, arriving in New York August 31st to make the new monastic foundation.

After returning to the United States Helen worked for the Department of Medicine and Surgery at the Veterans Hospital in Massachusetts from 1946-1950 and from 1953-1964. During the Korean War as a member of the Army Nurse Corps she cared for the wounded State-side. In 1953 she received a Bachelor of Science in Nursing from Boston College.

PROCESSION



I rise at Thy call and I follow Thee
Keep my heart from all terror and assist me
In darkness I move on, step by step,
Let me feel Thy hand, and may I also hear Thy voice.

From Procession by Raissa Maritain


Mother Irene often spoke of procession as a theme that ran through the course of her life. In her refections on her voyage across the Atlantic Ocean with the troops she wrote:

It was a very interesting voyage on the Queen Mary because that was when I really began to think of the term procession, because there was an eternal procession on the Queen Mary…I'm sure that throughout the six days I passed the 25,000 troops. And it was a very profound experience because you looked at these men who were going over as we were, but they would be going into combat, and you thought, how many are going to come back, how many are going to come back maimed for life, or how many are going to come back whole and continue on their life?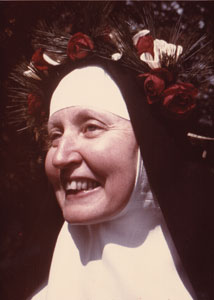 This procession would bring her to Regina Laudis. She came on retreat for the first time in the early 1960's until that inevitable moment:

And so I continued to come back. But more and more you know it was in my mind that I really want to come back—forever.

She entered as a postulant in 1964 and in 1965 was Clothed in the monastic habit. She made Final Profession of Vows August 6, 1970 and received the ceremony of Consecration April 7, 1975.



...in some way, a contemplative life was always running through the stream of my life.


Deeply contemplative and drawn to prayer within the Monastic Choir, she was always ready, at great sacrifice to herself, to take on any active mission asked of her. Any general would want such an "aide-de-camp" who with an innocent smile could gather intelligence and go to the grave with secrets with which she was entrusted. The more chaotic things might become in the course of a day, the more we could count on Mother Irene to smile. Perhaps her capacity for prayer within activity was part of the aura of peace she communicated and for which she was named in religious life.

Mother Irene received a weekly copy of The Army Times so that she could see the faces of those in the Honor the Fallen section dedicated to honoring those who fought and died in Operation Enduring Freedom, Operation Iraqi Freedom and Operation New Dawn. She placed each newspaper in the small chapel of St. John's Tower where she lived and held the fallen soldiers and their loved ones in her heart and prayers. One month before her death Mother Irene was honored with the Connecticut Veterans Wartime Service Medal.


| | |
| --- | --- |
| | I always pray for all of those people who served in World War II because that's when I served. And at the Abbey we pray for (and many times put in the prayers at Mass) all the veterans from World War II, some from the Pacific, some from Europe. But I always pray for those patients whose body my hands touched in a form of healing. Whether it be changing their wounds, soothing their brow, giving them penicillin, giving them blood or plasma, or just being present in their company. And I pray for the people with whom I worked and served. |

Besides her monastic Community, Mother Irene is survived by her beloved family: her sister Rita LeSage and brother John Boothroyd, and numerous nieces and nephews and their families. She was predeceased by her brother Joseph and her sister Ruth. The loving care of Mother Irene by the nurses of Vitas in her final days is gratefully acknowledged.

Calling hours will be at the Church of Jesu Fili Mariae, 15 Robert Leather Road, Bethlehem on Sunday, July 21st from 1:00-9:00 P.M. and Monday, July 22nd at 8:00 A.M. followed by the Requiem Mass at 10:00 A.M. and burial in the Abbey cemetery with full military honors.

DOCUMENTARY FILM IN PROGRESS - MEMORIAL
A documentary film entitled Uncompromising Valor about Mother Irene's life and experience as a World War II Army nurse is in the final stages of production. She was a living archive with a memory for detail that was second to none. We are blessed to have a written and recorded archive of her reflections on being an army nurse on the front lines. Col. Gleason, MD, surgeon of the 67th Evacuation Hospital during World War II documented each step of their journey. His detailed photographs starting in England before the D-Day invasion, on to the beaches of Normandy, through France, Belgium, Luxemburg, Germany and finally Czechoslovakia give us a glimpse of the courageous work of the 67th caring for the wounded throughout Europe. In lieu of flowers, donations towards production costs for completion of the documentary would be gratefully appreciated online. By mail: The Abbey of Regina Laudis, 273 Flanders Road, Bethlehem, CT 06751.



WORLD WAR II PHOTOGRAPHS of MOTHER IRENE'S JOURNEY
Photographs by Col. Gleason, MD, surgeon of the 67th Evacuation Hospital
Click to enlarge.