The enclosure is marked by grilles or other architectural means of separation-communication at the places where persons within and without the community encounter one another.
From the Constitutions of the Abbey of Regina Laudis
THE MONASTIC ENCLOSURE
Hospitality is an essential part of our Benedictine spirituality. All are welcome to our Abbey Church Jesu Fili Mariae, the Lower Monastery Chapel, the Monastic Art Shop, and our Neapolitan Crèche. As contemplatives, we offer hospitality that is true to our life of monastic enclosure—which means that any place at the Abbey not clearly open to all, is reserved for use by the Community and may be entered by others only with specific permission. Our desire for all who come here is that the caring observation of our enclosure will deepen their experience of what we offer.

THE MONASTIC GRILLE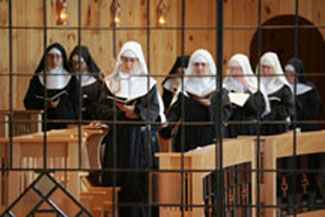 The grilles within our Church Jesu Fili Mariae, Lower Monastery Chapel, Entryway, and parlors are an integral part of our identity as an enclosed monastic community. Traditionally contemplative Benedictine monasteries have had grilles to define and preserve their enclosure. Someone unfamiliar with the monastic grille may at first perceive the grille as an unwelcoming barrier, yet experience shows that clearly-defined boundaries allow for meaningful encounter and exchange. For us it is analogous to a cell's semipermeable membrane, that in protecting the cell, selectively allows molecules to pass in or out for the life of the organism.

ISLANDS OF ENCLOSURE
Since we are a land-based community with a working farm spread across 450 acres, we have established what we call Islands of Enclosure. Community members and only those with permission of the Abbess and accompanied by a monastic community member may enter these areas. As an aid to identify these Islands of Enclosure, the graphic to the left appears on pages of this web site that are devoted to these protected areas and their activities.


To further facilitate the recognition of these Islands of Enclosure when visiting the Abbey, please refer to a map of the Abbey grounds, which indicates areas open to the Public, and look for signposts on the Abbey land that are to be found at each of the entries to private, protected areas.