"In gratitude for the life and call of Mother Dolores Hart who from her earliest years sought with a burning fierceness for a love stronger than death, a love that would last forever, and in wonder at God's improbable choreography that led her from the stars of Hollywood to the still more golden light of the Star of Bethlehem at Regina Laudis where she continues to seek and find that imperishable love every day through her Vows and Consecration to Jesus Christ. May she never stop searching with that same burning intensity,
Let us pray to the Lord."
"In gratitude for all the people Mother Dolores has brought with her on the search: family, friends, colleagues, and untold numbers of people whose lives have been touched by her films, her words, her story, may we pray for blessings on all those gathered here today and for those connected to us by invisible bands of love as we contemplate the marvelous fertility of the Word of God when it is rooted in the good soil of one receptive and very generous heart,
Let us pray to the Lord."
"The monastic community acknowledges in a special way today Mother Dolores' 50 years of vowed life given in service to the building up of this community and the Church, whether as carpenter and coffin-maker, photographer, writer and spokesperson, founder of The Gary The Olivia Theater, but most importantly as our Dean of Education, who is always ready to introduce a new generation to the truth—that if we can risk to suffer the purifying fire of our desire, we will taste in this life what belongs eternally to the next, the resurrection of all we have loved held forever within the glorious Body of the Risen Lord, in gratitude for her witness to this mystery,
Let us pray to the Lord."
Mother Abbess Lucia's Prayers of the Faithful at the Jubilee Mass

Love is God! We search for love, a love that is stronger than death. We think we're searching for God, for Love, but Love is searching for us. Why? Because God Himself died into this creation, the soil, Christ the seed, the Word of God dying into our Lady, giving birth to a New Creation which is not just a creature but is Divine, the Incarnation. Mother Dolores, more than anything you show us that, have taught us that. We learned this truth. We celebrate that great gift that we have been given in Christ and which Mother Dolores has embodied and acted for us in 50 years of vows: in obedience, stability and certainly 50 years of conversion of life, by this love.
Father Iain Highet in his homily at the Jubilee Mass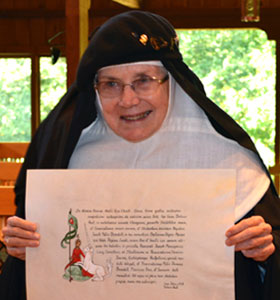 2016 marks the Golden Jubilee Year of Mother Dolores Hart who celebrates 50 years of Vowed life at the Abbey of Regina Laudis. On Saturday, September 17th, family, friends and colleagues joined the monastic community in celebration. Father Robert Tucker, Pastor of St. Anthony of Padua Parish in Litchfield was the main celebrant at Mass and Father Iain Highet, Pastor of the Immaculate Conception Church in Norfolk and St. Joseph's Church in Canaan, the homilist. Other concelebrants were Father Robert Blyman, Father Douglas Mosey, Father Vito DeCarolis, Father John Young, Father Mathai Vellappallil, Father Elijah Washington, and Father Christian Leisy, O.S.B. Prior of Christ in the Desert, who proclaimed the Gospel. Mother Prioress Therese from our Foundation, Our Lady of the Rock, Shaw Island, Washington was with us throughout the week of the celebration. We were blessed with the presence of Mother Shaun Vergauwen, F.S.E., Mother General, Mother Miriam Seiferman F.S.E., Vicar General and other members of the Franciscan Sisters of the Eucharist. Our longtime friends Brother Jude, O.C.S.O. and Brother Amadeus, O.C.S.O. of St. Joseph's Abbey in Spencer, Massachusetts participated in the Mass and celebration.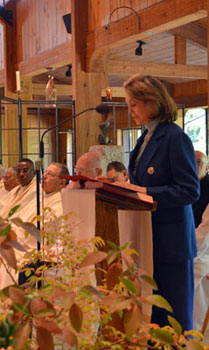 The 1st reading of the Mass from the Song of Songs was read by Maria Cooper Janis, Mother Dolores' beloved friend since she began her acting career in Hollywood. Tina Tockarshewsky, whom Mother Dolores came to know through their shared advocacy for the Neuropathy Association, did a beautiful reading from 1 Corinthians, How are the dead raised? During his homily Father Iain acknowledged that the glorious Fall day with its golden sun was the perfect setting:

...the reflective glory of sun, mirrored our generous hearts in gratitude for God's daughter, His sister, His spouse, His mother—who for 50 years has been burning bright.

He thanked Mother Dolores for the role she has played as Dean of Education of the Abbey, educating each of us at some point in the great mystery of the Incarnation, to know that

...henceforth the created things are not profane, for they are of Christ in the Incarnation.

In a post Vatican II Church Mother Dolores founded the Education Deanery, a new expression of St. Benedict's School of the Lord's Service in complement to monastic Formation. Using the steps of creative process, Mother awakens contemporary women to the classical precepts of monastic life through an arduous process of self-knowledge and conversion of heart.
Mother has dedicated her life to bridging the split between the profane and the sacred, insisting with a fierceness the goodness of creation and the body, God made Man according to the flesh.

Toward the end of his homily Father Iain invited us to be grateful and be glad and to congratulate Mother Dolores in the way they do in Hollywood—with rousing applause! He then spontaneously called Mother to the grille to address the congregation and community. Mother Dolores was surprised but as an actress who knows how to speak heart to heart, she did not disappoint:



You always know when a person knows. And that's why each one of you is here today because I have known you and I thank you from the bottom of my heart for making the presence of God's people so clear to us in the Community. Because what we must do, all of us together, is to stand erect in this world that has forgotten what real love is about. And if we can stand together in that mystery, we can do more to help our people than anything in the world, because our union is what they want, what the world does want, and what they fear cannot happen. So thank you for being the absolute presence of the mystery and I hope you have a great day!

Mother Dolores addressing all at her Jubilee Mass


In a clear loud voice Mother Dolores renewed her Vows of Stability,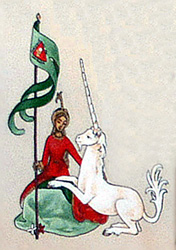 Obedience and Conversatio, reading from her original Profession Chart which she had illuminated with the image of the Unicorn, the elusive creature who could only be tamed by putting its head in the lap of a virgin. Over the years the unicorn took on more meaning for Mother Dolores, as a protector and guardian of an enclosure that allows for virginal love and exchange. After her Renewal of Vows, Mother sang the Suscipe:



Suscipe me Domine, secundum eloquium tuum, et vivam et non confundas me in expectatione mea./ Receive me Lord, according to your word and I shall live, and do not disappoint me in my hope.


After Mass we all proceeded to the Jubilee Barn, for a feast and celebration. The setting was fit for a star with beautiful fresh bouquets of flowers on tables inside and on the porch. A wonderful meal, prepared by Sal Apicella with the help of Sister Grace Edna Rowland, C.S.J., Nancy Stein, oblates, interns and a cast of thousands, was enjoyed by all. A display of photographs and albums in a side room highlighted Mother Dolores' genealogy, career as an actress, and mission as a Consecrated Benedictine nun. Mother Dolores personally greeted each and every guest. She was thrilled to catch up with friends from California, New York, Pennsylvania, Canada, some whom she had met in Grammar School! Abbey friend and chef Phil Polzella presented a beautiful tiered cake covered with flowers which he had baked in the early hours of the day.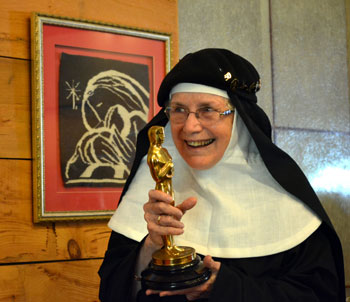 Our guests were captivated by Debussy's Petite Suite for 4 hands, En Bateau, played by David Stein and Sister Jeanne Paul. Maria Cooper Janis surprised her friend Mother Dolores with the presentation of her father Gary Cooper's Oscar. We laughed and cried as we listened to the banter and reminiscences of two life-long friends. Mother Dolores looked right at home holding the coveted statuette which, alas, was returned to its rightful owner at the end of the day.

The celebration continued into the evening with the premiere of the acclaimed musical The Fantasticks at The Gary-The Olivia Theater of the Abbey. Our theater was founded by Mother Dolores with her friend and colleague Patricia Neal. Co-directors of the theater, Sally and Tom Camm, outdid themselves to make the gala in honor of Mother Dolores unforgettable. Mother Dolores and Abbess David were driven from the Lower Monastery to the theater in a shiny black 1950's Cadillac by a cast member wearing a formal black uniform and gloves. When they arrived at the theater they could see the lights of the newly-constructed theater entrance, a gift from Frank Martinelli for Mother Dolores' jubilee. On the wooden beams on the sides of the open-air theater there were posters of Mother Dolores with her film co-stars such as Elvis Presley and Anthony Quinn. Tom Camm led Mother Dolores down the red carpet which had been spread out over the new cement path and theater floor, also an extravagant gift of Frank Martinelli. Mother Dolores walked to the stage to the applause and best wishes of the audience. The Fantasticks was indeed fantastic with a tight ensemble that introduced new young stars to our theater. Matt Wood's set with the sun and moon, was dazzling. At intermission local wines and artisanal cheeses were enjoyed by the audience. The Opening Night Gala ended with a moving tribute to Mother Dolores. Tom Camm led the cast in singing The Impossible Dream, with a slight adjustment of the lyrics. Sally Camm presented Mother Dolores with a bouquet of roses and a five-minute standing ovation was the perfect end to a perfect day!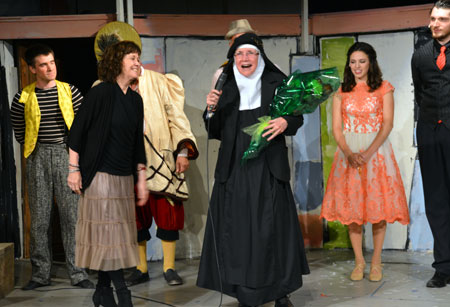 And the world will be better for this,
That one woman, scorned and covered with scars,
Still strove with her last ounce of courage
To reach the unreachable star.
Gallery of Mother Dolores' Jubilee Mass
Gallery of lunch and reception at the Jubilee Barn and evening at the Theater Gala