Read a current personal reflection from Mother Dolores.

Mother Dolores' acclaimed autobiography The Ear of the Heart: An Actress' Journey from Hollywood to Holy Vows was released in 2013 and as of 2015 is in its third printing. Learn more about Mother Dolores' Autobiography.

Dolores Hart began her career as an actress when she was only 19 years old, making her screen debut in 1957 as Elvis' sweetheart in Loving You. Dolores became an overnight success story and starred with Elvis again in King Creole the following year in 1958. She then took on Broadway, starring in The Pleasure of His Company in 1959, for which she won a Tony Award nomination for Best Featured Actress. Further movie hits followed, including the hugely popular Where The Boys Are and Lisa, the story of a young Holocaust survivor, which earned her a nomination for a Golden Globe for Best
Picture/Drama. By now one of Hollywood's rising stars, she went on to make six more films, among them St. Francis of Assisi, where she portrayed Clare, a woman who gives up everything to follow Saint Francis and founds the Order of Poor Clares. Dolores' last film role was opposite Hugh O'Brien in 1963 in Come Fly With Me.

At the height of her career, Dolores stunned the world by making the decision to become a cloistered nun and enter the Abbey of Regina Laudis. "I just knew that this was what God wanted from me," she said years later. Mother Dolores' mission as an actress did not end, but rather took a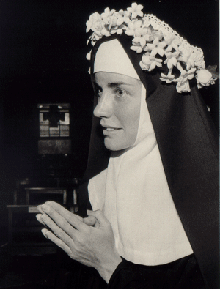 contemplative turn. "I never felt I was 'walking away from Hollywood'" she said recently. "I felt I was walking into something more significant and by that, I took Hollywood with me." In 1986, in collaboration with her dear friend the late Patricia Neal, Mother Dolores founded The Gary-The Olivia Theater, an open air theater at the Abbey which gives performances each year.



It wasn't until we started a theater on the Abbey land that I really could see how I could help young people find their vocation in Christ through the medium of the theater.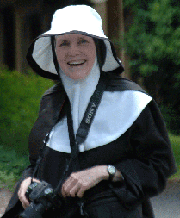 Mother Dolores has shown how film can be an artistic medium for spiritual growth and relationship, and by filming the community's activities over the years, she has created an invaluable documentation of contemplative monastic life. She continues to be a voting member of the Academy of Motion Picture Arts & Sciences. She is the recipient of two Honorary Doctorates: in Jurisprudence from Fairfield University and in Fine Arts from Loyola Marymount University in Los Angeles.

Since 1970 Mother Dolores has been the Dean of Education at Regina Laudis. In this role she has established a new expression of St. Benedict's School of the Lord's Service in which contemporary professional women can be awakened to the classical precepts of monastic life through an arduous process of self-knowledge and conversion of heart.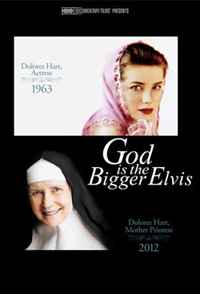 HBO DOCUMENTARY: "God Is The Bigger Elvis"
HBO made a documentary about the life of Mother Dolores Hart. The film was nominated for an Oscar for Short Documentary and received very positive reviews when it screened on TV in April 2012. The documentary can currently be viewed on the HBO GO service and the DVD is available for purchase in our Monastic Art Shop. Visit the Video & Chant pages to read more about this documentary and to view the film trailer.