273 Flanders Road • Bethlehem, CT 06751 • phone: 203.266.7637 |

Directions

Open Daily 10:00–12:00 noon, 1:30–4:00 pm

Closed Wednesdays

. If coming from a long distance, we advise calling to confirm that the Shop is open.



CLOSING OF THE MONASTIC ART SHOP
Our New Horizons renovation project includes the closing and dismantling of the present Monastic Art Shop to make way for a new one that will be part of the renovated monastic building. The Shop will close at the end of August, so we encourage you to visit, browse and take home some of the beautiful items on sale. Do not worry about our traditional Christmas Sale! We will have a Christmas Sale in another location. Visit our web site for details closer to the Advent Season.

MAKE A DAY OF IT ON SATURDAY, AUGUST 19th!
Visit our Chapel, go to the Barn Sale, browse at the Monastic Art Shop, visit our 18th-century Neapolitan Crèche, and go to see Fiddler on the Roof at 7:30 pm in our theater!



Photography Exhibit: Captured by Grace by Elizabeth Smith
This Exhibit Closed on August 12, 2017



Elizabeth Smith is an artist and photographer living in Washington, Connecticut. She studied painting and photography at Brighton University in the UK where she received a Bachelor of Fine Arts degree. Originally from London, she moved to the U.S. with her husband and three children in 1995 when her husband's job was transferred to New York. The family settled in Darien for seventeen years.

In 2011 having discovered the Abbey of Regina Laudis through a circuitous route— with grown up children and no longer tied to school timetables and job commuting to the city, she and her husband decided through a leap of faith to pull up roots once more and move nearer to the abbey. They felt very drawn to the Benedictine rhythm of life, where prayer is work and work is prayer and wanted to be closer to its pulse.

This exhibition of photographs was her first solo exhibition.



Click to see the details of four of Elizabeth's beautiful photographs that will be on display and for sale.


Artist's statement:


I am an artist, photographer and an oblate shepherd. Once a week I work with the other shepherds and the Abbey's flock of Shetland sheep. Much of the work in caring for the sheep entails looking after the land. Typically a work morning involves clearing brush, pulling up weeds that would otherwise make the sheep sick, mucking out the stalls and changing the water buckets. There's always manual work to do—bringing hay bales down from the hay loft, loading up the truck full of work tools, mending broken fences.

When I do sheep work I remember to take my camera with me. I don't set out to photograph anything in particular; it's more of an instinct. Something captures me—maybe the way the light is soft one day, making the colors of the sheep, the trees and the land look as one. Sometimes I'm drawn to photographing their wonderful fleeces. Every Shetland sheep has a distinct coloring which can change dramatically from the time they are lambs to when they become adult ewes and rams.

Often I don't feel I've photographed anything special, but when I slow down and take a second look I might see something differently, something new that captures my imagination. This happened with the image of Mocha and Marley (donkey and ram). By simplifying the color and cropping the image, the animals gained more of a presence. But it's more than that—ultimately I'm looking not only with my naked eye but listening with the 'eye of my heart'. I'm listening for something timeless, or in between time. When this happens it feels effortless and, like the sheep, brings me joy.


2016 Christmas Sale at the Art Shop Opens on Friday, November 25th.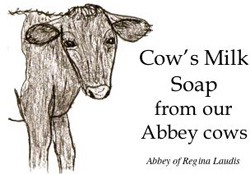 Soaps
Last year we introduced our very popular soaps with Honey and Almond soap, made with our bees' honey and beeswax. This year we are also offering Creamy Cow's Milk soap, made with the creamiest of milk from our own dairy.



Health and Beauty
Perfumes—Developed by a perfumier especially for the Abbey in the 1960's, such as classic fragrances:
Woodland (developed to reflect the scents of our land)
New Mown Hay
Benedict Cologne.
Lavender and Rose Mists—pure essential oils and distilled water
Rose and Lavender Sachets
Herbal Shampoo
Shampooch—a natural vegetable glycerine based shampoo for strong, shiny coats, as used by our Beagle, Fyodor and Weimaraner, Jubilee

Abbey Candles
Mother Lioba has expanded her line of Abbey beeswax candles which make beautiful gifts to brighten up your dinner table during Advent and the Christmas Season. Children will love the figures of animals like the cow, sheep and honey bear!


Click to see the details of gorgeous Abbey candles and hand-turned wood holder.


ADVENT CANDLE SETS
Hand-dipped tapers made with beeswax and natural dyes, deep purple and fuchsia

PILLAR CANDLES

100% solid beeswax candles, individually hand-poured, retaining the natural colour of the beeswax, ranging from pale yellow to caramel, in a candle holder of hand-turned Abbey wood
Same as above but with an intricate fiddlehead fern molded design
51 to 65% solid beeswax, individually hand-poured
FIGURE CANDLES
100% solid beeswax pinecones, cows, lambs, flowers, honey bears, votives. All are hand-poured with natural colors.

Abbey Bread
Delicious, freshly baked, healthy breads are being offered by the Abbey bakers.

Click to see the assortment of Abbey breads.


Bella Alpacas
This year we are pleased to offer Bella Alpacas Herbal Products and Alpacas Socks produced by our friends the Apicella Family on their local alpaca farm.

Herbal Products
Mica Lip Balm, a natural moisturizing lip balm made with coconut oil, mango butter, lecithin and mica sparkles
Wrinkles Be Gone anti-aging lotion
Frankincense Tincture for stress relief.
Herbal Remedies
Fire Cider, a natural detox and flu remedy made with organic apple cider vinegar, onions, garlic, ginger, horseradish, cayenne, goji berries—great on salads too!
Alpacas Socks Bella Alpaca Socks are beautiful hand-made natural alpaca wool socks, made with natural dyes and considered to be the softest and warmest socks you can find.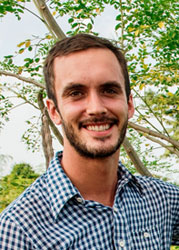 Moringa Oil from the "Miracle Tree"
This year, highlighting the culture of Ghana, we are selling Moringa Oil Soap, made in Ghana, recommended by Abbey friend Joe Stein who has lived and worked in Ghana for four years, as a Peace Corps Volunteer and then with True Moringa. The company works in support of smallholding farming families to grow moringa trees. Known as the "miracle tree", the moringa is highly valued for its nutritional content, including protein and vitamins A and K. Moringa Oil is a super moisturizing, rich in anti-oxidants to help protect your skin. We also offer Ghana Krono Beads in necklaces and bracelets made by Ghanaian women, a cultural tradition.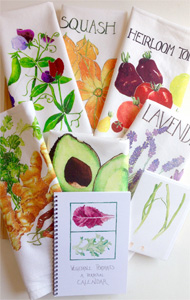 Silk Screen Cotton Towels and Aprons from Chavah's Garden
Our customers love the line of original silk screen products made by Abbey friend and artist Sydney Palmer C' de Baca who describes her tea towels in this way:

My deluxe flour sack tea towels are made of 100% cotton with screen-printed designs of my watercolor paintings. They are washer-dryer friendly and come with a deliciously thick, silky smooth hang tag explaining the care and glories of flour sack towels. All artistry, from painting to screen printing, is done in Seattle.

Her silk screen designs in our shop also grace aprons, mugs and a "perpetual calendar" that isn't specific to any year, so is perfect for birthdays and anniversaries that need to be remembered every year. Sydney's designs capture the beauty of flowers, fruits, vegetables and creatures and will brighten up every kitchen. Her tea towels with the lavender motif sell out quickly, so come and see and touch the soft cotton for yourselves soon!
See Sydney's full line of products available on Etsy.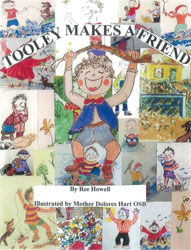 A New Children's Book Illustrated by Mother Dolores Hart!
Tooley Makes A Friend is a book for children of all ages with story by Ree Howell and illustrations by Mother Dolores Hart.



Tooley is a six year old boy who plans to be a detective during summer vacation. But his plans change when his parents announce that Tooley will be spending the summer on his elderly Aunt Nan's farm while they go on a business trip to Japan. This is the very last thing Tooley wants to do! To cheer him up, Tooley's Mom promises any gift he'd like when they return if only Tooley makes five new friends. Tooley, of course, presumes that this will be impossible because Aunt Nan has no friends. By story's end, how surprised Tooley is when he doesn't make five new friends. He makes twenty-five!


Our friends at Fascia's Chocolates continue to make their irresistible pecan chocolate bars uniquely for us; including their dark chocolate version of their bar.

Our year-round Abbey staples make great gifts: artisanal cheeses, sheepskins, woven scarves, ironwork, candles, jams and jellies, hot mustard, infused vinegars (infused with our own herbs, such as thyme, fennel and garlic), herbal products, special tea blend, lotions, mists and perfumes.

In media: the ever popular "God is the Bigger Elvis" Oscar nominated documentary about Mother Dolores Hart, and Ear of the Heart, her autobiography; plus our Gregorian chant CD's, gift cards, Lauren Ford Christmas cards, the Cheese Nun DVD documenting Mother Noella Marcellino's cheese expertise; and a wide selection of books on spirituality.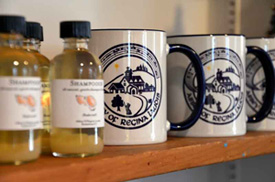 Also for the kitchen we have the Abbey Apron, with our classic embossed logo, as seen on our mugs. The aprons were a familiar sight at the Abbey Fair and we've updated them and brought them back!

We have a broad selection of biographies about spiritual figures and in our religious items section Patron Saint medals now available on chains, as well as some particularly beautiful hand made gemstone rosaries. As usual we offer Saint Benedict medals, The Rule of Saint Benedict and books on Benedictine spirituality, as well as religious gift items such as icons, rosaries, and key rings.


Besides the offerings at the Monastic Art Shop, another point of interest at the Abbey especially during the Advent and Christmas Seasons is the 18th Century Neapolitan Crèche. Completely restored by a team of experts from the Metropolitan Museum of Art in New York, the Crèche is open every day from 10:00-4:00 during Advent through Epiphany. Read about the restoration of the Crèche and see a gallery of the process in the Smithsonian Magazine. The Lauren Ford Crèche, comprising larger-than-life figures, housed in an intimate barn setting, is also open from Thanksgiving through January 7th.

The Church Jesu Fili Mariae and the Lower Monastery Chapel are open to visitors during the day. The public is welcome to share in the celebration of Mass each morning at 8:00 am and Vespers every day at 5:00 pm (4:30 on Sundays) at the Church Jesu Fili Mariae.

THE MONASTIC ART SHOP YEARROUND
At the Monastic Art Shop year-round there is a wide range of Abbey–made goods, including candles, in a variety of shapes and made in our candle studio using 100% pure golden beeswax. Two new perfumes are available for sale this year, in addition to our classic "Woodland" scent: "New Mown Hay" and "Benedict", a cologne equally suited to men and women and named after the founder of Benedictine monasticism.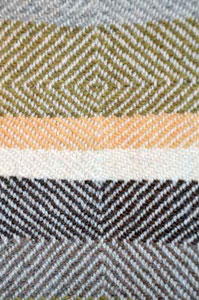 We offer delicious Abbey farmstead cheeses, herbal products, leather items, skeins of wool and woven and knitted goods, courtesy of the Abbey flock. There are also metal crosses and other objects made in the Blacksmith Shop, one-piece stone crèches, note cards with photographs of the Abbey land, and greeting cards highlighting the artwork of some of the Abbey nuns and monastic artists. As always, we will offer CDs of the monastic Choir singing Gregorian Chant, as well as our Gregorian Chant textbook. Also available again is the delicious pecan bark made exclusively for the Abbey by Fascia's Chocolates in Waterbury.

We have an exquisite and wide ranging selection of special Christmas ornaments, within a price range ($3 - $30) for everyone: olive wood ornaments from the Holy Land, colorful glass ornaments made at the Abbey, Byzantine hand painted glass ornaments, embroidered felt ornaments made by a small Christian charity in Thailand that gives employment to disadvantaged rural women in their community, and intricate floral glass ornaments from the Metropolitan Museum of Art.


We have expanded our popular children's books and introduced a new soft toy—Benedict Bear, a charming monk-bear uniquely imported by us from Winchester Cathedral, England.

In response to an increased interest in monastic and Benedictine spirituality, we have expanded our section on Saint Benedict, and are offering a larger selection of literature in these areas, as well as St. Benedict rosaries and medals.

The sound of our Women in Chant Gregorian Chant CDs can be heard as you browse books and media in our collection and enjoy the beauty of our products.

BOOKS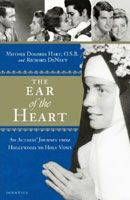 Available in the shop is the popular autobiography of Mother Dolores Hart, OSB, Prioress of the Abbey and former Hollywood movie star, entitled The Ear of the Heart: An Actress' Journey from Hollywood to Holy Vows. Read more about Mother Dolores and her autobiography.


The Story of Mother Benedict: In 2007, Ignatius Press published a biography of Mother Benedict, based on her memoirs, and written by Antoinette Bosco, an award winning journalist and writer. The memoirs give a personal insight into Mother Benedict's life and mission, and are richly populated with the popes, political figures, writers, artists and scholars, who accompanied Mother Benedict on her journey.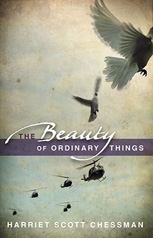 The Beauty of Ordinary Things, by Harriet Scott Chessman, a novel dedicated to the Abbey's beloved deceased members Mother Irene and Mother Placid. The novel The Beauty of Ordinary Things is available in the Monastic Art Shop. Harriet has known the Abbey of Regina Laudis since 1973 when she met Mother Lucia Kuppens, O.S.B. (then Patricia), on their first day of Chaucer class as graduate students in the Department of English at Yale University. They became fast friends and remained so all during the searching, tumultuous, heady, heartbreaking years of the 1970's that Harriet brings to life so well in this her fourth novel, The Beauty of Ordinary Things. Over the course of many years, Harriet has grown to be the beloved friend of the entire Abbey community and writes of her monastic experience with the sensitivity, intelligence and grace born of inner experience.
Read reviews and learn more about the author and her work.

Other inspirational books including some written by members of the Monastic community are also available.

GREGORIAN CHANT



With selections that range from majestic ensembles to stunning solo pieces, a musical masterpiece that at once thrills the ears and opens the heart to the birth of Christ.

Ignatius Press Review of The Announcement of Christmas CD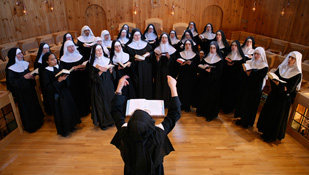 We have to date produced four CDs: Women in Chant: The Virgin Martyrs, Recordare, The Announcement of Christmas and A Gregorian Chant Master Class. Recordare and The Announcement of Christmas were conducted by our Abbess, Mother Abbess David Serna. Recordare includes original meditations on the mysteries of the Rosary read by Mother Dolores Hart. The Announcement of Christmas in particular includes some of the most beautiful music in the liturgical year. The CD carries listeners through the different phases of the season, from the four weeks of Advent, Christmas Eve, to Christmas Day, and finally the Epiphany. Visit the Video & Chant pages to read more about these albums and to listen to selected segments.

VIDEO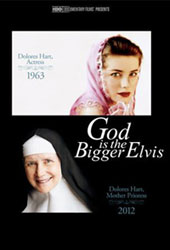 God is the Bigger Elvis: This HBO movie documents the circumstances surrounding Mother Dolores Hart's entry to the Abbey of Regina Laudis. It was nominated for an Oscar in the Short Documentary category in 2012. The documentary can be viewed on-line at HBO GO for those with an HBO subscription. View the film trailer.

Sheepfold, Continuity of a Legacy: A video history of the founding of the Abbey, narrated by Mother Placid Dempsey.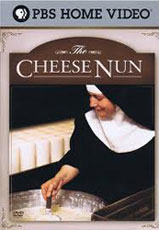 The Cheese Nun: A documentary DVD about R.M. Noella Marcellino and of her experience and expertise in cheesemaking. View excerpts.

Work and Pray, Living the Psalms with the Nuns of Regina Laudis: Written and produced by Margot Fassler with the faculty and staff of the Yale Institute of Sacred Music. The DVD includes excerpts from the Rule of St. Benedict read by Mother Dolores Hart, Prioress, and interviews with members of the Abbey community speaking about their experience of praying the Psalms. View excerpts.

CHEESE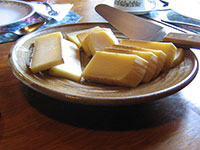 Our Bethlehem and farmstead cheddar cheeses are sold on a small scale. We are not always able to meet demand, as our milk production is seasonal and dependent on herd size. We do try to have more cheese available at Christmas, but it sells out quickly — and so come early! If you are travelling from a distance and hoping to buy some cheese, we suggest that you call in advance to see if we have some available.

CRAFTWORK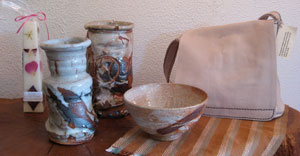 Handcrafted works made by the nuns of Regina Laudis are sold year round at the Art Shop, though more of our crafts are sold at our Christmas sale. These include:
Hand crafted candles
Woven and knitted goods
Sheepskins and woollen yarn from our own flock
Fused Glass ornaments fired in our kilns
Cards and notepaper
Perfumes: The Abbey began making pure perfumes in the 1960's. We recently re-introduced 'Woodland,' a perfume made from over 15 essential oils (no synthetics) and is designed to evoke the natural scents of our land. This Christmas we will be launching Rose Essence, an eau de cologne made from our own pure rose absolute.
Herbal Gifts: a range of sachets in lavender, rose and lemon verbena, as well as skin lotions, bath salts and herbal shampoo
Leather goods such as handbags, belts, and purses crafted from our own cowhides
Pottery, fired in the Abbey's wood fire kilns
Iron work, such as trellises and crosses, hand-forged by the Abbey Blacksmith
Wood work, including meditation benches, made from wood harvested from Abbey land
We also offer tanned hides from our cattle, often used for wall hanging or as a floor covering. Cowhides and leather work may also be available for commission.
Books, medals and other religious items are sold year round.
THE PANTRY

Jams and jellies from our Preserving Department
Our own specially blended Herbal Tea
Hot Mustard
Abbey Honey, harvested from our hives
Condiments such as herbs and spices for seasonings, and flavored vinegars, such as Basil, Garlic, French Tarragon
2015 Christmas Sale at the Monastic Art Shop
Art Shop Exhibit A Year at Regina Laudis by Laura Mogollon-Lee, Artist in Residence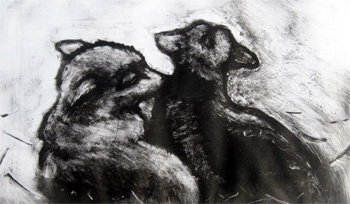 On September 5, 2015, a new exhibit opened in our Monastic Art Shop Gallery. The show presents the work of the Abbey's current Artist in Residence, Laura Mogollon-Lee. The exhibit includes Laura's watercolors, drawings and graphic works, featuring stunning monotypes that have been inspired by her work with the Abbey's sheep.

Laura Mogollon-Lee, born in Venezuela, has a Bachelor's Degree in Art from the University of South Florida and Master's Degree in Fine Arts from Washington State University. She is also a former Peace Corps Volunteer ( Kazakhstan 2008-10). Laura first came to the Abbey of Regina Laudis in 2014 and soon after began her year as Artist in Residence. The artwork on display, monotypes and vector (computer graphic) images, is a small sampling of the vibrant body of work Laura produced during the past year. She also made all of the fused glass ornaments displayed in our front window. Laura has produced beautiful tapestries and hand-woven scarves in our weaving studio and unique, hand-bound books in our bookbinding studio. In addition to her many hours of creative work, Laura worked in our vegetable and flower gardens on a regular basis and has been our Art Shop volunteer on Sunday mornings.


| | |
| --- | --- |
| Laura Mogollon-Lee at work in the studio. | Laura at the press in the Abbey's book bindery. |



One of the most exciting aspects of monotypes is the strong contrast generated by the black ink strokes against the white paper. This contrast infuses the work with a sense of drama that comes across to the viewer. While the ink is on the glass, it is a very forgiving media, one that allows me to work without a fixed idea as to how the work should be in its final stage. In that way, the process informs my work, and allows me to meditate until I have a clear understanding of what the finished product will be. In other words: each piece is a moment of contemplation of a particular experience at the Abbey.

Laura Mogollon-Lee, Artist in Residence


Laura works at the Monastic Art Shop on Sunday mornings from 10:00 to 12:00. You are welcome to come to visit and speak with her about the exhibit and her art work.

Flowers from the Haute-Savoie, Monotypes by Yves Berger, in the Art Shop Gallery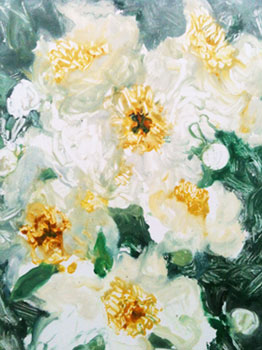 On the Feast of St. Benedict, July 11, 2015, a new exhibit opened in our Monastic Art Shop Gallery. Mother Abbess Lucia and the community are honored to present the work of artist Yves Berger. Born in 1976, Yves Berger lives and works in the same remote Alpine village in the Haute-Savoie region of France where he was born. The son of author and artist John Berger, he grew up in a home environment where issues of art were a central preoccupation and he still has his studio in the hayloft of the family house. Immediately outside of this haven of culture is rustic France and a rural community largely resistant to the pace and demands of the modern world, a community into which Yves Berger also fits as he works the land with them when not in the studio.

Yves Berger trained at the Ecole Superieure des Beaux-Arts de Geneve (1995-2001) and was awarded the Prix Stravinsky for painting. He has travelled widely, exhibited in numerous European cities and has work in private collections worldwide.



Click to enlarge a photo.

Visit the exhibit to see the beauty of the Haute-Savoie captured in the monotypes of this great artist.

What is a monotype?
A monotype is a one-of-a-kind, unique print. The artist creates a drawing or painting on a flat surface, or "plate", such as a sheet of zinc or plexiglass, and transfers it onto a sheet of paper by pressing the two together. This is usually done by using a printing press, though it can be accomplished by rubbing or rolling with various tools which create different effects. The image on the plate can be produced by applying ink or paint directly onto the surface or by wiping the medium away from the surface of the plate, thus creating the image by subtracting the negative space.

Monotyping differs from other forms of printmaking in that only one print is produced. Other techniques, such as intaglio, etching, silkscreen and lithograph are able to provide an edition of multiple, virtually identical copies.

Yves Berger's monotypes are an excellent example of the freedom and spontaneity an artist can enjoy when working with this process.