"Mainly what I do is listen to people and try to help them understand the fact that they are loved by God, that they are desired by God, but that they have a mission and they've had that mission since the day they were conceived."

"It is my hope that as we seek to live the covenantal life into which we have been baptized, consciously confronting the demons that assail us and opting for the good of one another, the whole world will be changed for the better."
Mother Abbess David Serna

The story of my journey into contemplative life is a complex one. Early in my life in the monastery I was given much responsibility and I grew to take on more and more, especially when a whole generation of the first Americans began leaving the monastery after Vatican II. This story is one of helping to form the next generation of monastic women and making the transition from a French culture to an American one. Perhaps I have been prepared by my genealogy, my education, and my work with the Puerto Ricans of New York City. God knows it has been a struggle, but if I am still here it is because here the truth of the Mystery of the Incarnation was revealed to me in personal love and dedication.

Mother Abbess David Serna in her Autobiography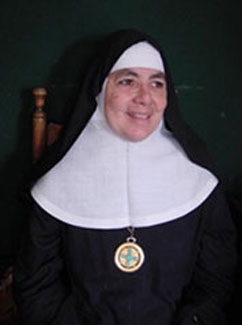 Mother Abbess David Serna O.S.B. is the second abbess of Regina Laudis. It is clear that the Holy Spirit led Anne Serna to Regina Laudis and prepared her from the beginning to take her place as abbess. Child of a Peruvian father (Lucas Serna) of mixed Indian and Spanish heritage and an English mother, (Anne Catherine Finnerty of Jarrow on Tyne, Newcastle, England), she embodies within her very genealogy the realization of the vision of establishing a genuine expression of European monastic life rooted in the American soil and spirit.

Her story is inextricably bound up with the story of the becoming of Regina Laudis itself, for to an extraordinary degree she helped to form the community that formed her. Having graduated from the College of New Rochelle with a major in Sociology in 1956, she entered Regina Laudis three years later. Mother David was predilected at an early age to assume a position of responsibility in relation to the foundress, Reverend Mother Benedict, and earned a place of trust and love in the heart of the community that she has held ever since. She made Perpetual Vows and received the Rite of Consecration in 1965. In 1967 Mother David was appointed the first Subprioress of Regina Laudis by Mother Benedict, who was then Prioress. Mother David retained that position until 1976 when the monastery was elevated to the rank of an Abbey. Then, upon becoming first Abbess of Regina Laudis, and assuming the title Lady Abbess, Mother Benedict appointed Mother David Prioress. On January 25, 2001, Mother Prioress was elected abbess.

From 1971 until her election as Abbess, Mother David was Cellarer of the Abbey, responsible for the maintenance of the property of the Abbey and daily well being of the community. She brought to this daunting obligation her practical wisdom and organizational skills motivated by a ready compassion for anyone in need. These gifts had been honed through her previous professional training as a social worker at the New York Foundling Hospital and through a year spent in Puerto Rico teaching English and imbibing another culture. Master of St. Benedict's admonition to the Cellarer never to be without a "good word", she graciously served the community through the years of growth when the community expanded from one main building to a complex of 400 acres and a host of residences and farm buildings. In addition to caring for the material development of the monastery, Mother David was instrumental in building the community structures to form and sustain a new generation of post-Vatican II vocations. In 1972 she was named Dean of Formation in complement with the Dean of Education, Mother Dolores Hart, O.S.B. Together they strove to bring forth an innovative approach to monastic formation based in the wholeness of the human person. The vitality of the present community bears witness to the fruit of their pioneering labor.



Every time I listen to her recording of the Lamentation, I am moved to tears.

Gregorian Chant Master Dr. Theodore Marier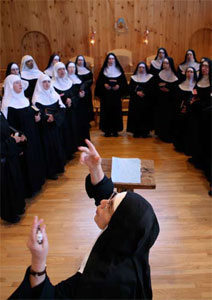 HER VOICE
The stability of Mother Abbess' being is nowhere more apparent or appreciated than in her dedication to the prayer of the Divine Office and the Gregorian Chant. Her voice is an embodiment of pure tone and feminine strength. She has been dedicated to releasing the voice in others since her childhood. She directed three choirs before entering the Abbey, and has worked tirelessly to develop the Abbey choir as an ensemble made from the distinctive sound of individual voices. This work of building a choir dedicated to the praise of God, and a community that can work together as one body, has flowered under her guidance in the accomplishment of three Women in Chant compact discs as well as the production of A Gregorian Chant Master Class.

CELEBRATING FIFTY YEARS OF VOWED LIFE: MOTHER ABBESS' GOLDEN JUBILEE
In 2012 we celebrated the Golden Jubilee Year of Mother Abbess. On Sunday, May 13th, Mass was celebrated at our Church Jesu Fili Mariae by the Most Reverend Henry J. Mansell, Archbishop of Hartford.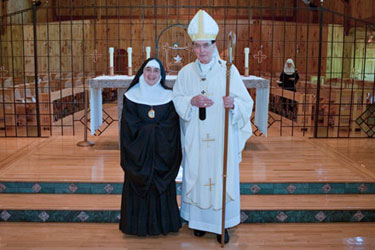 Our Chaplain, Father Iain Highet concelebrated with ten priests from the archdiocese and other monastic communities. In the Archbishop's welcoming remarks, he made note of the many ways in which Mother Abbess has been an exemplary spiritual head of the Abbey community. He added a personal note, saying that he spoke these words with admiration, respect and affection for her. It was a moving introduction to a day filled with emotion and gratitude, local friends, glorious sunshine and food from the Abbey's farm. We also had the privilege of sharing the day with Reverend Mother Therese Critchley, Prioress of Our Lady of the Rock, who was also celebrating her Golden Jubilee in 2012.

MOTHER ABBESS'AUTOBIOGRAPHY WRITTEN AT THE TIME OF HER ABBATIAL BLESSING

| | |
| --- | --- |
| | The story of my journey into contemplative life is a complex one. Early in my life in the monastery I was given much responsibility and I grew to take on more and more, especially when a whole generation of the first Americans began leaving the monastery after Vatican II. This story is one of helping to form the next generation of monastic women and making the transition from a French culture to an American one. Perhaps I have been prepared by my genealogy, my education, and my work with the Puerto Ricans of New York City. God knows it has been a struggle, but if I am still here it is because here the truth of the Mystery of the Incarnation was revealed to me in personal love and dedication |
On Sunday December 17, 1933, at 8:55a.m., in Greenwich Hospital in Greenwich, Connecticut, I was born: the last of four children and the only girl of my mother, Anne Catherine Finnerty and my father, Lucas Evangelista Serna. My parents were both immigrants to the United States. My mother came from ]arrow on Tyne, New Castle,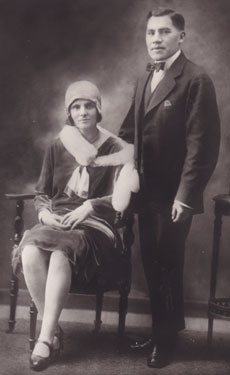 England, to join her aunt and uncle who were already here and subsequently returned to England so that I never knew them. My father came from Lima, Peru, where he worked as a steward on the big tourist vessels that docked in Lima. He was a very good worker and had a very affable personality. One of the wealthy families he met on these boats wanted to bring him to the States to work for them. He accepted the offer and came to Pittsburgh to work for them and to attend Carnegie Tech, which he did for two years. Meanwhile, my mother, I don't know how, got to Pittsburgh too, and was taking care of children of another wealthy family that lived near the family my father worked for. At that time there were a lot of immigrants from England, Ireland and elsewhere that made up a large body of servants for wealthy American families. These people in service all knew one another and so it is not difficult to understand how my mother and father came to know one another, even though they were working for different families. My father was not born in Lima . He was born in Tauca on the farm of his father , Hemanihildo, and his mother Flora . He was one of nine children, none of whom I ever met. Tauca is in the mountains of northern Peru. My father and his brothers went to Lima to get a better life, as did so many of the young people of the day. He had a very hard time getting started in Lima, but did not want to go home to Tauca because he said that forever after the townspeople would call him 'the man from Lima'.

My father was what is termed mestizo. It really means half-breed. On his mother's side his grandmother was full-blooded Indian, but there were Spanish strains in the genealogy also. My great grandmother had a good knowledge of herbs and was the midwife for the village. I do not know much about my grandmother except that my father considered her a treasure. My grandfather was the equivalent of the mayor of their village. My father had a great love of learning. He was a man rooted in the earth. He could make anything grow. He had a great stability and compatibility with nature: plants, animals, and humans. He had gentleness, compassion, wisdom and a primitive consciousness.

In contrast, my mother came from the very sophisticated environment of England. She was steeped in what was happening to the King and Queen and brought us up on picture books of the little princesses, Elizabeth and Margaret. My grandmother, Catherine Finnerty, was a trooper. My mother loved her dearly. She had a lot of spunk and courage. She was a committed Catholic. My grandfather, John Finnerty, was from County Mayo, 'God bless him'. He worked in the shipyards in Jarrow and was killed at work when my mother was eleven. My grandmother married again. I don't know when. Her husband's name was John Gannon. My mother liked him very much, as far as I could tell.

My mother had four sisters and one brother. All the girls survived. The little boy died at age eight or nine from some illness. My mother and her sisters belonged to an age when young people in England were moving out to find a better life in other developing nations . Two of my aunts, Nora and Jean, went to New Zealand. One, Theresa, stayed in England and one, Mary, known as Molly, came to the United States and was part of our family. My mother suffered greatly during World War II, knowing that her family , still in England, were all in mortal danger. All of their lives were changed by the war and would never be the same. My Aunt Theresa, like my mother, had four children also, three boys and a girl. Her daughter Joan, the oldest child, died of consumption, as a result of the conditions surrounding her work as an ambulance driver. She was twenty-one. Two of the boys had consumption also from spending so many nights in the air raid shelters.

It was not until I entered the monastery that I discovered the historical importance of Jarrow as the site of the monastery of St. Paul's where the Venerable Bede lived his whole monastic life, gifting the Church and the world with his holy writings on the Gospels and his Ecclesiastical History of the English Nation. I had always wondered where my Benedictine vocation came from. I knew no Benedictines before I came to Regina Laudis. I did not know of the strong English Benedictine tradition because my mother did not know of it, even though she had grown up in Jarrow on Tyne. By then St. Paul's monastery was a ruin, having been devastated in the Protestant reformation. It is now a tourist site and has not been a living monastery for centuries. Nevertheless, I think that my vocation must have sprung from these strong roots. As a matter of fact, I once saw a picture of the dedication stone on the church of St. Paul's in Jarrow and the date read April 23, 682. April 23, 1965 is the date of my final vows and Consecration. In God a thousand years are as a day!

My brothers and I lived our whole life in Greenwich, where my father worked for relatives of the family that brought him up from Peru, the C.D. Raffertys. He was 'their man'. He did everything for the family, including taking their children around.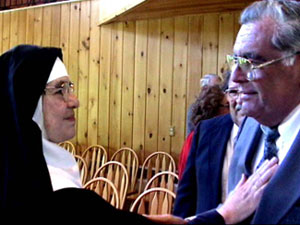 The children were devoted to him and he to them. Like us, that family had four children. The only girl, Martha, was severely epileptic, and the only practicing Catholic. She and my father were very close. My Dad teased her and she loved it. She also died at age twenty-one, and it was a great sorrow for that family and for my father . Martha had an altar in her room and after she died the altar was given to my father, who had it in his room for as long as I can remember. He always had fresh flowers in front of it and each morning and evening he would be kneeling there, praying. Now it must be said that my father was not practicing his faith until he met my mother. He was always very devout, but until he met the witness of the English Catholic that my mother exemplified, he did not go to church. As I knew my father, he was definitely a practicing Catholic and a daily communicant. Such was the conviction of my mother that the rules of the Church were to be obeyed.

My days were lived in a circumscribed area. I went to church and I went to school. Both were five minutes' walk up the hill from where I lived and faced one another on the same street. I loved school and did well. I loved church and soon took an active role even as a little child. I sang in the choir from age seven, and that was a continuous way of participation until age twenty-two.
When I was sixteen I was directing three choirs: one for children age eight or nine, one for teens and one for older women. My participation in the Church through music, Our Lady's Sodality and the Catholic Youth Organization (CYO) were all ways of formation in the faith. I took an active part in the formation of these organizations . We did not have Sisters in our parish because we were a mission parish to begin with, but by the time I was six we had our own pastor. The school across from the church was the local public school so my own religious training came from my mother, the example of my father and from release-time religious education, at which various lay people taught us. Release-time religious education was an arrangement that our church had with the public school. We Catholics were allowed to get out of school one hour early on Fridays to go over to the church for religious instruction. I don't know how this arrangement was worked out, but it was in effect for many years at our school. For the sacraments, the Sisters from the big church in Greenwich came on Sundays to instruct first communion and confirmation classes. My faith was always the most important issue in my consciousness. My relationship to God was foundational to my whole life and the choices I made along the way.

After grammar school, I attended Greenwich High School, the only high school in Greenwich except for a couple of exclusive private schools. The section of Greenwich I came from was inhabited by people from the working class. The parish of St. Roch's to which I belonged was an Italian parish. The families were masons, contractors, laborers, owners of small family businesses and for the most part of moderate means. Most of my friends ' parents were immigrants or second generation Americans with first generation parents still living.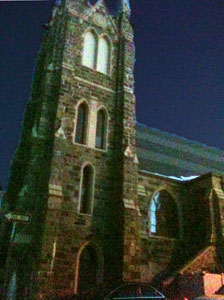 The feasts of the church were Italian in character even when we happened to have an Irish priest. Other parts of Greenwich housed the very wealthy, while still other parts housed those of the professions like teaching and medicine. Greenwich High was attended by teenagers from all over Greenwich, bringing me together with a much more sophisticated group and giving me a broader scale of observation. In my junior year, I was voted into the National Honor Society. I worked hard and enjoyed learning. I wanted to go to college and wanted to be able to qualify for a good school. I was the type of young woman who always had someone looking out for my good. When time came for college, my senior English teacher, Miss Catherine Wood, who looked like an angel with snowy white hair and vivid blue eyes, wanted me to go to a good school. She was a Catholic and she wanted me to have a good influence around me as well as a good education. Accordingly, Miss Wood set up an interview for me at New Rochelle and she even came to my house to pick me up and take me there. Needless to say, she spoke for me to the admissions office and did all she could to sponsor me. New Rochelle accepted me and I did not look any further because it was near enough to Greenwich to allow me to 'day hop' and in 1952 my parents could afford the tuition as long as I did not have to be a boarder. This also allowed me to continue the work in our parish with the choirs and other organizations to which I belonged. And, of course, I worked every summer and long vacations to help with my school expenses . I had a great sense of the self-gift of my parents and it was not a burden to help; I wanted to. Miss Wood died shortly after I entered. She visited me here once and I always regarded her as an angel the Lord put on my path at a crossroads in my life. It was she who introduced me to Ivan Illich when I was a sophomore at New Rochelle and was having a terrible time harmonizing the world of reason and the world of faith . Ivan helped me enormously. This was one of the most intense and transforming times in my life . Suffice it to say that Ivan assured me I had not lost my faith but was growing into it.

I began my studies at the College of New Rochelle in 1952. I was a sociology major and philosophy minor. After I met Ivan, who was at that time Fr. Illich, stationed at the Incarnation parish on St. Nicholas Ave. in the Bronx, I became actively engaged in trying to help the Puerto Rican migrants who were flocking to New York City. Ivan was working to help them and along with Fr. Fitzpatrick, S.J. of Fordham University was trying to study the situation so that the help offered would be intelligent and according to the culture of the people. This was the beginning of Ivan's work in inculturation which continues to this day. At that time, I began meeting with a group of women who would visit the Puerto Rican families around St. Nicholas parish to try to help them bridge the gap between New York City and their island home.
It was an enormous gap. It was here I met Angèle Demand, who has remained a dear friend ever since. Though the thought of a vocation was never far off, I kept thinking, 'But not yet'. I wanted to work in social work after graduation and because of my experience with the Puerto Rican community and the need at that time to help them adjust to New York City, I thought I would continue to work in the City. In order to prepare myself, I thought it would be important to be the recipient of their hospitality first, so I wanted to spend some time in Puerto Rico. Now it happened that Ivan had been sent to Puerto Rico by Cardinal Spellman to work at the Catholic University in Ponce, so when I went there in 1956 after graduation, I already had some friends. This is also a story in itself, but one of the most amazing things is that it was here that I met Mushka, Mother Jerome, who had flown to Puerto Rico to see Ivan before entering Regina Laudis. He introduced us and we had lunch together in San Juan. I spent ten months in Puerto Rico, teaching English. When I returned, I worked for the New York Foundling Hospital and had a predominantly Puerto Rican case load of about eighty clients.

My experience as a social worker was the immediate spur to my entering the Abbey. Even though I had from my youth been engaged in social action of one kind or another, the call I felt was to a contemplative life without even knowing what exactly that meant. The presence of God was very real to me. I embarked on my social work with energy and openness and the conviction that I could make a difference. I wanted to give my whole life to make it better for each one in my care, but what I could do really was so little. After a year an half, I knew that even if I spent my whole life in social work I could only do a very little. There had to be another way for me to help. It was that search for another dimension in which to give myself that finally drove me into the monastery. Then, of course, the question is, 'Did that meet your desire?' Yes, because in complement to that vast world of need that stretches from end to end is that vast world of interior struggle for redeemed innocence, which by morphic resonance communicates faith, hope and charity. It was that interior struggle I took on in entering the monastery. It is my hope that as we seek to live the covenantal life into which we have been baptized, consciously confronting the demons that assail us and opting for the good of one another, the whole world will be changed for the better. I believe that was the vision St. Benedict entrusted to us when he saw the whole world in a single ray of light.

My way to Regina Laudis was prepared by a number of signs. When I graduated from New Rochelle, my Pastor Father Paolucci, gave me a medal of St. Anne and on the little tag was written 'Regina Laudis Monastery'. As it turned out, I learned only after I had entered that my pastor had land adjacent to Regina Laudis and was a frequent visitor here. My meeting with Mother Jerome in Puerto Rico was another sign.
At that time she had shown me pictures of the monastery she was going to enter, but they didn't register with me because I knew the spirituality of St. Teresa of Avila and I thought I was going to be a Carmelite. Then, when I was working at the Foundling Hospital in New York, I was still in touch with the group of women that had formed under Ivan Illich, and one of them, my friend Angèle Demand, asked me one day if I would like to visit a monastery in Connecticut, which she visited from time to time and liked very much. When we arrived, who should we meet walking up to the parking lot but Mother Jerome? I had had no idea that this was the monastery she had entered, even though she had told me the name when we met in Puerto Rico. She did not recognize me at first, but I did her. After that first visit, I came again and finally asked to make a first retreat. Then, and through the years that followed, Rev. Mother Benedict, who became Lady Abbess in 1976, was extraordinarily kind and discerning in my regard. I was not easy to deal with, I'm sure, but I always felt her support of my vocation and I reverenced her breadth of spirit and the contemplative gaze she brought to each situation.

It took other visits and a second retreat before Rev. Mother Benedict and the council accepted me to enter, and it took a great interior struggle for me to accept to be accepted. Finally, on September 12, 1959 I knocked on the Great Gate and asked to come in. It was the hardest thing I ever did. I kept wishing I would be found unsuited to the life, but I resolved with God that I wouldn't leave unless I was sent away. In fact, after one year as a postulant, I was accepted to receive the habit and did so on September 10, 1960, in what was then a public investiture ceremony, receiving the habit at the hands of Fr. Ivan Illich, who was the officiating priest. First vows followed eighteen months later and Perpetual Vows and Consecration on Easter Friday, April 23, 1965.

During these years there was much ferment in the community as in all religious communities of the time. Following the Second Vatican Council, the Church had called for the renewal of religious life and so every aspect of our lives came under scrutiny by the community.
Providentially, we were helped by Father Francis Prokes, S.J. who was doing his doctoral work at Princeton on the theological dimension of architecture and in union with Rev. Mother Benedict worked with us to develop the evolving structures that would take us into the future. This work became the basis of his dissertation, the underlying principle of which is collaboration. This principle was related to all aspects of our lives, whether working with one another, with lay professionals or with our own structures of authority. Even as we were attempting to renew our monastic structures, we were visited by an amazing intervention of the Spirit in the form of many young college students who kept coming for weekends to find out how to live community life. These students helped educate us to receive the next generation of candidates, many of whom came from their ranks.

It was at this time that my collaboration with Mother Dolores Hart, 0. S. B. began. Mother Dolores had entered the community in 1963 and had brought with her the experience of her acting career. When we formed Deaneries in 1972, Mother Dolores was ideally suited to found what we called the Education Deanery, envisioned as complement to the Formation Deanery. Mother Dolores was named Dean of Education and a short time later I was named Dean of Formation. Education and Formation were to take two distinct roles in guiding candidates into monastic personhood.
The Formation side was to hold for the classical line, supporting the Sister through the successive phases of monastic development through the holy Rule, the Constitutions, the Fathers of the Church, Latin and Gregorian Chant, as used in the Mass and in the Divine Office. My own formation at home, at New Rochelle and in the monastery was rooted in classical structures so this side of the complement was very natural to me. It was the Education side that posed the threat to some in the community. The work of this Deanery was to take the candidate where she was in process and to try to affirm her past experience as relevant and necessary to her mission from God as it would develop through her monastic life. She did not have to look good. She had to learn to accept herself, her experience, her genealogy, as the preparation for her call. She was encouraged to find one area to which she could genuinely respond as a beginning way of relationship with the community. She was encouraged to keep a record of her instinctual responses, whether she was attracted or repulsed, to some aspect of the life, and to share this, as she could, with the Dean of Education. This was a non-judgmental sharing. It was the Dean's work to look for the good trying to break through what might be presented as total repulsion or confusion. This way of approach did not go unchallenged. Some in the community felt that Reverend Mother had lost the pristine vision of the contemplative life. It was hard for them to believe these 'hippies' would ever become monastic persons.

It took the vision of Reverend Mother and the creative imagination of Mother Dolores to persevere in the work of establishing this new element in monastic formation. Believing in both, I did my part to run interference and support the foundation of the Education Deanery, trying to bear the tension this created with those time-honored ways of formation in which older members had been formed. This was aided by my love for the unfeigned desire in these young people. I was aware that we were establishing the continuity of the foundation.

Because of the growing trust and need of the complement gifts of one another in this work of formation, Mother Dolores and I, under the leadership of Lady Abbess, experienced the fruit of collaboration, as well as the suffering, involved in holding for this way of approach. Of course, this co-labor is never finished and there are always new areas to be addressed.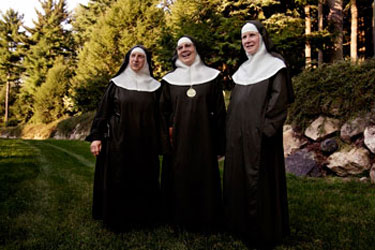 Nevertheless, this preparation of working together over many years made it obvious to us when I was elected Abbess that a new configuration of authority had to be visually expressed. It was evident that Lady Abbess, as our foundress and Abbess Emerita, needed to remain visible as a contemplative authority holding the span of our development from the beginning, and Mother Dolores, as Prioress, had to remain as exemplar of the risk needed to take hold of personhood, even in the face of great resistance. To this end, we now have a new visual presentation of our authority structure. Through it we want to acknowledge that the gifts of many are needed in order to lead a community today and the collaboration of all in union is what will make the community strong and ongoing.
For this endeavor we ask your continued prayers that we will be open to the promptings of the Holy Spirit in our service to one another and the Church.