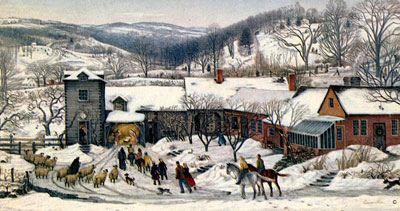 Sheepfold is the birthplace of the Abbey of Regina Laudis. It was the home of the much-revered artist Lauren Ford, who offered hospitality to Mother Benedict Duss, our Foundress when she arrived from France in 1947. Today, Sheepfold, because of its importance to the monastic community, is considered part of the Monastic Enclosure and serves as a private residence for students of the Abbey's Internship Program. Yet because of its historical significance to the local region, many people have been drawn to participate in its preservation. The rambling and charming complex known as Sheepfold comprises many small structures linked together: an 18th-century Blacksmith shop converted to a farmhouse-studio, a Lithuanian grain tower and an adjoining building known as Stone House,
part of which was once a fort in the days of the early settlement of Bethlehem. A central feature is a Lord and Burnham greenhouse, which Lauren commissioned in 1941. Several acres of pasture land surrounding the barn provided a home for Lauren's beloved Cheviots and home now to the Abbey flock. A wild life pond with a footbridge offers a nature sanctuary. For forty years Sheepfold was Lauren's home as well as a cultural center for New York, local and international artists, authors and friends. Sheepfold became the "cradle" for the present Abbey, a sacred place of foundation and birth.


A dedicated core of Oblates has for some time now sponsored a wider of circle of families and professional persons known as "Sheepfold Friends" who come together for occasional work days with members of the Benedictine community to restore the house and reclaim the land. We are introducing innovative and ecologically sustainable technologies, such as the pilot testing of battery-powered solar generators. We continue to secure additional grants for restoration of the house, greenhouse and barn, and reclamation of the brook. These exciting initiatives, made possible through ongoing professional collaboration, ensure the future legacy of Sheepfold.


There are many ways besides work days to offer your professional expertise for a particular need throughout the year. Perhaps there is some service you too would like to offer. We thank all those who have contributed to this founding effort:
Stephen Silver, Eversource, CL&P—Energy Services and Human Development
Joseph Pisani, Pisani Steel Fabrications, Inc.—Engineering Services from Concept to Fabrication
James Innes, Carrier Class Green Infrastructure—Off Grid Solar Mobile Device Charging Stations and Onsite/Off Grid Green Power Systems
Jon Rese, Allied Communications—IT Networking and Communications Technologies
Charles Laus, Charter/Spectrum Communications—Scalable, Tailored Digital Networks and Services
Walter Sedovic FAIA LEED and Jill Gotthelf AIA FAPT, WSA/ModernRuins—Preservation, Planning, & Sustainable Design
Dr. Jay and Mary Ellen Conlon—Funding Initiatives
OBLATES, SHEEPFOLD FRIENDS AND PROFESSIONALS IN COLLABORATION AT SHEEPFOLD