Sheepfold is the birthplace of the Abbey of Regina Laudis. It was the home of the much-revered artist Lauren Ford, who offered hospitality to Mother Benedict Duss, our Foundress when she arrived from France in 1947.
It consists of a 1700's Blacksmith shop converted to a farmhouse-studio, an historic Stone House, barn and Lithuanian grain tower. The centerpiece is a Lord and Burnham greenhouse which Lauren commissioned in 1941. Several acres of pasture land surrounding the barn provided a home for Lauren's beloved flock of sheep. A wild life pond with a footbridge and brook offer a nature sanctuary. For forty years Sheepfold was Lauren's home as well as a cultural center for New York as well as local and international artists, authors and friends. Sheepfold was a center of collaboration in the arts, scholarship, agriculture and community.

Sheepfold became the "cradle" for the present day Abbey and is a sacred place of foundation and birth.
Sheepfold is part of the monastic enclosure and not open to the public. Sheepfold Friends, a group of dedicated individuals, families, youth and professionals from near and far, and members of the Abbey community are renovating the buildings and land of Sheepfold. This renovation provides opportunities for initiatives that create relationships, community and cultural exchanges. Recently, three Sheepfold Friends received from Mother Abbess the Blessing of Oblates of the Abbey with a centering within this part of the monastic enclosure.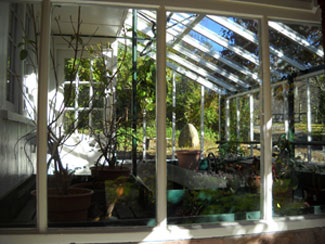 We share these photographs, the first in this site's series, to offer a glimpse into our ongoing work and prayer of integrating technologies and ecology, enhancing historical research, artistic pursuits and professional collaborations. Here you see us within the renovation of the greenhouse and advancing solar innovations, celebrating the collaboration with the Watertown Foundation, who enabled solar-sensitive/energy efficient windows. This "greener" Greenhouse is now a research site for other solar ventures as well as the center of the pasture's solar power network of fencing that keeps our sheep safe and enclosed.

Surely all who come to Sheepfold ensure the future legacy of Sheepfold as a centering of creative energy, collaboration community spirit within the Abbey's Benedictine tradition.



GALLERY
Images of Sheepfold