" Christ likes us to prefer truth to him because, before being Christ, he is truth. If one turns aside from him to go toward the truth, one will not go far before falling into his arms."
Simone Weil
" Then I heard the voice of the Lord saying, 'Whom shall I send? And who will go for us?' And I said, 'Here am I. Send me... Ecce adsum!'"
Isaiah 6:8

One of my father's directives to me growing up was: 'Don't dodge your fences.' I rode horseback for most of my life before entering and have a body sense of what concentration it takes not to 'dodge my fences,' rather to focus all my attention on the fence ahead of me and trust the horse to carry me over. I have often in my monastic life called on the skills I learned from horseback riding to see me through tough times, as well as to rejoice with abandon in the moment of risking to leap.
Mother Subprioress Margaret Georgina Patton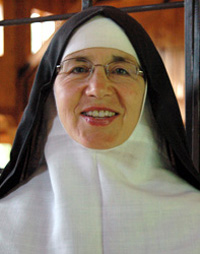 Mother Margaret Georgina Patton was named Subprioress in February 2015 after the election of Mother Abbess Lucia. Margaret Patton is the first-born of five children to Joanne Holbrook Patton and Major General George S. Patton. She was born on July 6, 1953 in Washington, D.C. while her father was fighting in Korea and grew up largely on army posts in the United States and Europe. Her father's distinguished military service included a tour of duty in Korea and three tours of duty in Vietnam, the last as colonel, commanding the 11th Blackhorse Armored Cavalry Regiment.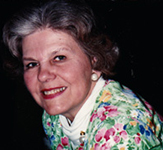 Her mother Joanne, daughter of Brigadier General and Mrs. Willard A. Holbrook, Jr., embodies the grace and strength of an "army wife" providing stability for her children: Margaret, George Jr., Robert, Helen and Ben, through many moves and periods of separation from her husband during his deployments. But when the Patton family members were together they recited poems, put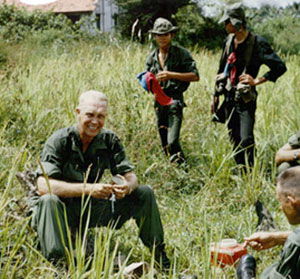 on plays and performed musicals—which is why Mother Margaret Georgina knows all the lyrics to every song. After General Patton's retirement from the Army, he established Green Meadows Farm, at the family homestead in S. Hamilton, MA. It continues today as a certified organic CSA with Joanne at the helm since his death in 2004, ensuring that it continues into the future. Understanding the hardships of military spouses and families, Joanne continues her lifelong dedication to military families through the National Military Family Association, and Operation Troop Support, among others. She advocates tirelessly through her membership in various service organizations for persons with disabilities, including veterans.



Both my parents are models of body-given in service. And each came from a long military tradition. They were always a team: my father, an officer of the highest caliber, deeply respected by his fellow soldiers, and my mother—his faithful partner in service—especially to the military community.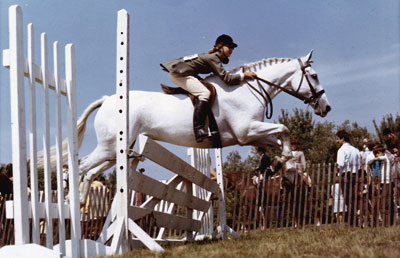 Margaret Patton 1968
Don't dodge your fences!


Margaret first came to the Abbey in the early 1970's while a freshman at Bennington College amidst the social turmoil surrounding the Vietnam War,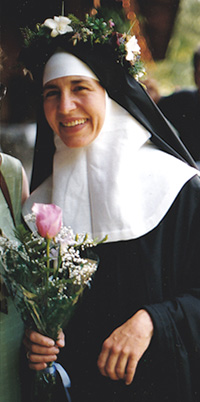 a conflict that touched her personally through her father's military service in Vietnam. To her surprise, in conversations with our Foundress Lady Abbess Benedict, she discovered that her grandfather General George S. Patton, Jr. and the American 3rd Army had liberated the Abbey of Notre Dame de Jouarre from Nazi occupation during World War II. Mother Benedict, an American who had entered Jouarre in 1936, had the inspiration to found a monastery in the United States in response to what she described as the "lifting of oppression" by the American soldiers on the day Jouarre was liberated in 1944. As Margaret became drawn to monastic life at Regina Laudis she could begin to claim the rich genealogy of her military family.

After graduating from Dartmouth College in 1976, she was certified to teach secondary school English. That same year, she entered the Roman Catholic Church. She spent a year teaching English at Pierre S. duPont High School in Wilmington, Delaware as part of National Teacher Corps. She then earned her certification as a Montessori teacher and in 1978 co-founded The Beatrice Ayer Patton School of Montessori in Bridgewater, Connecticut. In 1982 Margaret entered the Abbey of Regina Laudis and at the time of her Clothing in the monastic habit Lady Abbess named her "Sister Margaret Georgina" out of reverence and gratitude for her genealogy.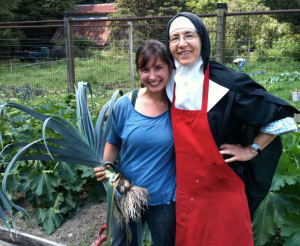 As a postulant and novice, she was offered the opportunity to study at Michigan State University, where she earned a B.S. in Horticulture and later her certification as a Horticultural Therapist. Sister Margaret Georgina made Final Profession of Vows in August 1992, becoming Mother Margaret Georgina, and received the Blessing of Consecration in 1998.

Mother Margaret Georgina embodies the spirit of service handed down to her from her parents, which has prepared her well to take on the role of Subprioress. As a member of Regina Laudis Community for over 30 years Mother Margaret Georgina holds many positions of responsibility, including having been elected as a member of the Abbess' Council for the past 12 years. All her diverse professional training has found new expression in two of the main areas of the Abbey's mission: liturgy and hospitality. She has a deep love for the celebration of the liturgy with a special dedication to the Office of Matins, sung during the night and she serves as a Mistress of Ceremonies. In her role in hospitality, Mother Margaret Georgina is called on to coordinate the participation of a multitude of guests in the Abbey's work and prayer. She takes great joy in introducing interns to the garden, awakening them to the wonder of fertility in the garden and soil and in themselves.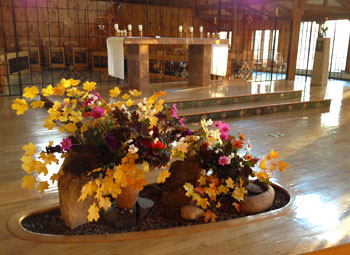 She often serves as a spokeswoman for the Abbey and is an interface with the public media. Mother Subprioress hosts our annual celebration of the Liberation of Jouarre welcoming Veterans and families of deceased Veterans, and active service members, with particular sensitivity to those soldiers who served with her grandfather in Europe. With all of this, she still finds time to maintain the extensive vegetable gardens, small fruit production, the Greenhouse "Entrance Chapel" and award-winning flower arrangements that enrich the Abbey church Jesu Fili Mariae, offering an ambiance of prayer and welcome.

One thing Mother Subprioress is known for in the community is her willingness to "jump into the breach" when something or someone is needed. This charism is summed up in the words of Isaiah: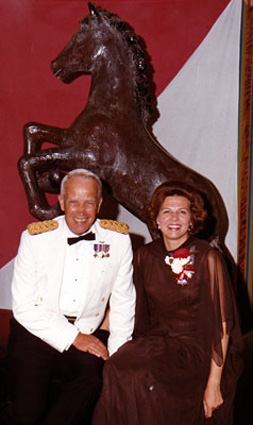 Whom shall I send? And who will go for us?' And I said, 'Here am I. Send me!

There is nothing she would not do for the community. Abbess Emerita David has said of Mother Margaret Georgina:

Her urge to conquer every situation is tempered by her capacity for obedience.

She never was able to meet her grandfather General George S. Patton, Jr. who died so tragically in 1945, but in aligning herself with Lady Abbess and the Regina Laudis Foundation, she found him and has never stinted in offering the gifts of her genealogy. This photograph of her parents at the Blackhorse Military Ball is one of her favorites; it reminds her of their singing the duet "I Remember It Well" from Gigi at parties. She too is a romantic, and having entered with her Lerner and Loewe Song Book tries to keep the fire alive in the midst of everyday tensions of monastic life. A subprioress is very much an aide-de-camp to the abbess, and Mother Subprioress Margaret Georgina is ready to serve Mother Abbess and the community with joy and alacrity.

For me, born into this military tradition, once I accepted Regina Laudis as the place of my marriage, my desire has been to give myself as completely as I can. I don't expect that this desire will ever be entirely met as there is always a new leap to be taken, both individually and corporately, as part of the monastic community of Regina Laudis, and her extended body, for the building up of the community and the Church. And that is the joy of it! Ecce adsum! (Behold, here I am!)