"Finally brothers, let your minds be filled with everything that is true, everything that is honorable, everything that is upright and pure, everything that we love and admire with whatever is good and praiseworthy. Keep doing everything you learnt from me and were told by me and have heard or seen me doing. Then the God of peace will be with you."
Philippians 4:8
"Our lives begin to end the day we become silent about things that matter."
Dr. Martin Luther King Jr.
A test of our sincerity in the practice of non-violence is this: are we willing to learn something from our adversaries? If a new truth is made known to us by them or through them, will we accept it?
From the article Blessed are the Meek by Thomas Merton
Mother Olivia Frances Arnold was named Prioress of Regina Laudis by our newly-elected abbess, Mother Abbess Lucia in February 2015. Beverly Arnold was born in St. Louis, Missouri to Olive and Ernest Arnold. Her genealogical roots are in Ireland and Germany. Her mother's family is Irish and her paternal grandparents hailed from Germany and Ireland. Ernest Arnold's family members were in trucking; his grandfather used to drive a horse and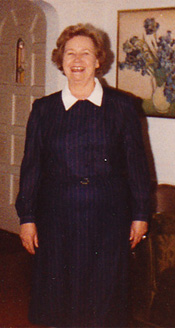 wagon delivering coal. Ernest earned his living as a truck driver and served in the United States Army during World War II at Monte Cassino. Beverly's mother Olive Arnold grew up in the southern part of Missouri and picked and chopped cotton with the rest of her family for their livelihood. Olive provided her three children, Beverly, John and Catherine ("Cat"), with a stable home while working full-time as a hairdresser.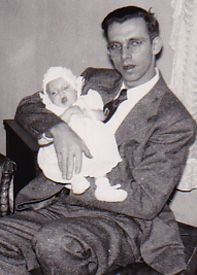 This strong woman kept her wry Irish sense of humor through it all and instilled an incredible work ethic in her daughter Beverly.

Beverly was educated by the School Sisters of Notre Dame, attending St. Francis de Sales School from kindergarten through 12th grade. The education she received there was to influence her desire to make a change in the lives of those systematically deprived of their rights. After high school she worked at the telephone company while attending night school at the University of Missouri-St.Louis.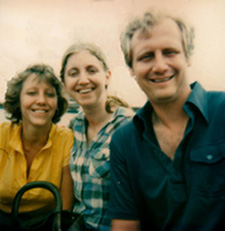 After graduating from the university she learned the principles of community organizing and became an activist for the United Farm Workers in St. Louis. In 1977 Beverly moved to Brooklyn, New York to work with the New York Public Interest Research Group, an organization committed to finding mortgages for low income people and exposing the unfair banking practices toward people of color.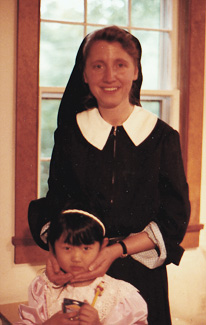 The work of Community organizing, although inspiring for Beverly, left her with a desire to "educate" on a personal level, one to one, and she began working with truants in New York City. She eventually undertook studies at the College of New Rochelle to learn the Montessori Method developed by Dr. Maria Montessori and based on the premise that education must follow the universal laws of human development as these are revealed in the lives of children. She worked for five years as a Montessori teacher at The Children's House of Park Slope in Brooklyn and then The Beatrice Ayer Patton School of Montessori in Bridgewater, Connecticut. During this period she came to know the Abbey of Regina Laudis and entered as a postulant on the Feast of All Saints, November 1, 1988. As a postulant she continued teaching at the Montessori School.
I see qualities Mother Olivia Frances used in the classroom that made her a great Montessori teacher, now make her a great prioress. She is calm, very thoughtful, has a great deal of patience and can think outside the box.
Mary McElroy, former Principle of a Montessori School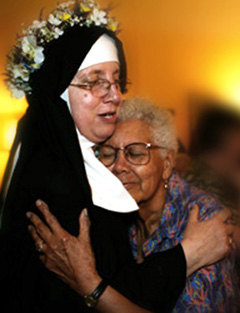 In 1991 Beverly was Clothed in the monastic habit and received the name "Sister Olivia Frances" a name reaching back to her formative experience in the St. Francis de Sales School in St. Louis for which she has always been grateful. Her religious name also honors her maternal grandfather and her mother, both named "Olive" and evokes an ancient invocation to St. Benedict that highlights his fruitfulness as founder of Western Monasticism,

O Olive ...

Sister Olivia Frances made Final Profession of Vows in 2000, becoming "Mother Olivia Frances", and received the Blessing of Consecration in 2007.

ORGANIZER-ACTIVIST-EDUCATOR
Very early in her monastic life it was clear that Mother Olivia Frances brought her professional training as organizer, activist and educator to her obediences (monastic works). Mother Olivia Frances is passionate about recycling. She has worked in the Abbey Compost Department for many years and continues to do so. Under her guidance a new compost facility which we call Lazarus was built in 2007. In her work in both the Abbey Library and for the Cellarer she organizes the recycling of books and piles of "treasures" from our attics and basements, a work that has been particularly critical to the our New Horizons renovation project.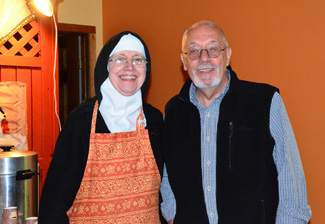 One of her greatest strengths is in coordinating and scheduling the work of volunteers as during the tag sales following our major clean-up of spaces needing to be renovated. Through her outreach in recycling, networking with libraries and charitable organizations, she has made new friends for the Abbey. She is not afraid to ask for help, trusting that volunteers will discover through their mutual work that she is committed to them personally, and holds their concerns and burdens in her prayer and heart.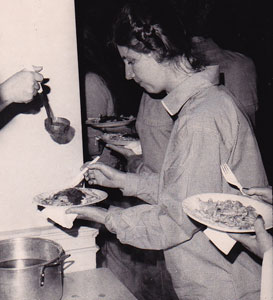 When Mother Olivia Frances, then Beverly, was organizing for peace marches in New York City she would help cook meals for the thousands of marchers. This work must have prepared her to take on the role of Econome, head of the monastic kitchen in 2001. One of the key principles of the Montessori Method is providing an ordered environment that protects and stimulates a child to learn. A capacity for creating order is one of Mother Olivia Frances' greatest strengths and perhaps there is no place needing it more than the Abbey kitchen. She coordinates teams of "kitcheners" who together plan menus, cook two meals a day for a minimum of 50 people under a deadline in tiny, often very hot kitchen. In Chapter 39 of the Holy Rule St. Benedict recommends that

...every table should have two cooked dishes, on account of individual infirmities, so that he who perchance cannot eat of the one, may make his meal of the other.

Providing for dietary exceptions is much more complex today than in 500 A.D., St. Benedict's time, and Mother Olivia Frances fulfills this injunction amidst all of the stress of the kitchen with graciousness and equanimity.



If I had to say why Mother Prioress makes a great prioress, I would say—first, she is totally dedicated to the life of the community. I worked with her for many years in the kitchen and elsewhere in the house so I know firsthand that she is an able organizer, who knows how to activate and involve the whole community. She can stay calm in the midst of a lot of tension. She is a tireless worker. I find her perspective on life very creative and usually complementary to mine so I learn a lot from her and she can fill out the whole picture for me. She is one of the most honest people I have ever met. She is also very funny and can make me laugh.

Mother Abbess Lucia speaking about our new Prioress



Abbess Emerita David has depended on Mother Olivia Frances for years for her stability, especially in the kitchen and her steadfastness as a Formation Mother who guides members of the community in First Vows. She describes her as

...unflinching in her capacity to confront different situations with equal fairness and a strong sense of justice.

Her "doggedness" and capacity to listen enable her to stay with a person or situation under her care to the bitter end. She can be challenging as a "straight-shooter" or playful as she was with the pre-school children she taught:"Did you have baloney for breakfast?" With her fertile mind, she makes many proposals, but is willing to have them redirected by authority. Mother Prioress Olivia Frances first came to the Abbey as an activist and it a amazing that in her contemplative vocation she has become more so, as her activism springs from her prayer, reading and reflection. Now we will continue to count on her as Prioress to protest when she sees an injustice and advocate for the truth of another.