Go to Current Production Schedule.

OUR THEATER COMPANY HAS A NEW NAME!


In 2014 Sally and Thomas Camm chose a name for the actors' company working at The Gary-The Olivia Theater. A theater company is a body of actors committed to preparation and performance of a play. The Clay & Wattles Theater Company is a 501-c3 performing arts and educational nonprofit organization. Thomas and Sally explain the inspiration behind their choice of the name:



The name

Clay & Wattles

has a literary reference in the W.B.Yeats' poem, 'The Lake Isle of Innisfree' and communicates the importance of having a connection to nature in a person's life. It starts, 'I will arise and go now, and go to Innisfree, And a small cabin build there, of clay and wattles made.'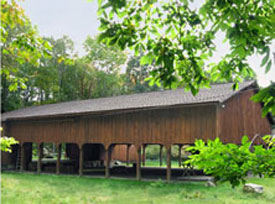 Clay & wattles also are ancient building materials, found in nature and used throughout the world. They provide a strong yet flexible resource for building and a sustainable, eco-friendly alternative to other conventional methods and materials. By analogy nature's sounds, scents and movements permeate the stage at The Gary-The Olivia Theater and in fact are sometimes used to extend and enhance the set and stage design. Nature is clearly a part of the experience at The Gary-The Olivia. The presence and awareness of nature can help to ground the performer in his/her body, feelings, experience and intuition as they attempt to bring a character to life and draw out the humanness in a role. So on stage clay and wattles (nature) is a kind of touchstone, that if we are fortunate enough, helps us connect with and express our common humanity.


HISTORY OF OUR THEATER

The Gary-The Olivia Theater is an open air theater that was built in 1982 and seats about 300 people. The theater is covered but opens at the back to the woods of the Abbey land, and the trees and birds are often a feature of the theatrical world that is created on stage. The link between drama and monastic life is an ancient one, but The Gary-The Olivia Theater in particular owes its existence to Reverend Mother Dolores Hart, the actress, who in 1963 gave up a successful Hollywood career to become a nun at the Abbey. Far from putting an end to her acting career, she discovered that monastic life transcended her acting vocation:

Obviously a cloistered monastery is not the conventional place that one goes to realize one's potential as an actress. And yet, in my case, my vocation as an actress could only have reached its fullest expression, its fullest expansion because I was fortunate enough to have been called to a monastic way of life.




PREVIOUS PERFORMANCES
In the 1970's, a company of actors called the Act Association formed around James and Dawn Douglas, friends of Mother Dolores, and fellow actors. Patricia Neal and James Douglas performed together in A.R. Gurney's play Love Letters, and over the years productions by the group have ranged from Shakespeare to Sartre, from opera to musical reviews. The Theater has also performed musicals in recent years: My Fair Lady, The Music Man, Fiddler On The Roof, West Side Story, Guys and Dolls and Oklahoma, South Pacific and Fiorello. You can read the glowing reviews of these performances at the Clay & Wattles Theater Company website.

THE MISSION OF CLAY & WATTLES THEATER COMPANY TODAY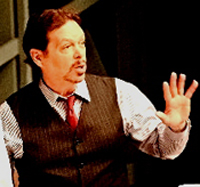 The mission of Clay & Wattles Theater Company, as expressed by directors Sally and Thomas Camm, is

...to organize, manage and execute a professional performing arts center
(theater, music, dance) that provides unique opportunities to integrate the arts, gives performers a professional and supportive environment in which to grow and develop their performing skills and provides audiences with rich, complex and compelling theatrical experiences of what it is to be human—and in so doing enrich the cultural landscape of Northwest, CT and the greater CT, NY and NJ region.



SUMMER PRODUCTIONS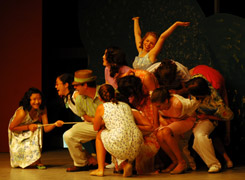 Currently the Camms produce two major productions a year, a play and a musical (with the goal of expanding the number and variety of productions in the future), along with an annual concert/fundraiser for the theater. The productions are attended by over 3000 people and are reviewed by major media outlets in Connecticut. Auditions are held each year and actors from the local community theater network, local colleges and universities, and from Actor's Equity audition for roles in the various productions. And there are newcomers, young people who live in the area for whom the experience of acting at the Abbey theater has opened up a new and rich dimension to their lives. For more information on how to get involved visit the Clay & Wattles Theater Company website.

2016 SUMMER SEASON AT THE GARY—THE OLIVIA THEATER—THREE PRODUCTIONS THIS YEAR!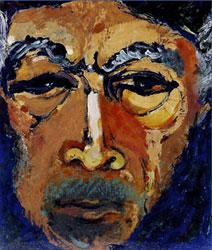 Zorba the Musical, based on the novel by Nikos Kazanzakis!
"Zorba," a musical written by the highly successful team of Kander and Ebb ("Chicago," "Cabaret") and book by Joseph Stein ('Fiddler On The Roof') will be presented from July 30th to August 14th.

The musical is based on the novel by the Greek writer Nikos Kazanzakis, "Zorba The Greek," which also engendered the popular film by that name starring the irrepressible Anthony Quinn as Zorba and Alan Bates as the teacher/writer Nikos. 'Zorba' tells the story of the worker Alexis Zorba, jack-of-all-trades, and his relationship to Nikos, an American of Greek descent who ventures to Greece to reopen a lignite mine on the Island of Crete that he inherited. It features Greek village life, beautifully drawn characters, great dancing and hauntingly beautiful melodies.

The role of Zorba will be played by Thomas Camm (most recently seen in the Clay & Wattles' production of 'Man of La Mancha' as Don Quixote), Niko will be played by NYC based actor Maurio Hines (last seen as Pedro in Man of La Mancha and with recent engagements with the Virginia Opera and the Glimmerglass Festival), Alika Hope will play Madame Hortense (last seen as Bloody Mary in the Clay & Wattles' production of South Pacific and as a featured performer in the band, Ray of Hope and with Sophia Sapronov (Thea in C&W;s production of Fiorello) playing the role of the Widow.

With sets designed by Woodbury artist Matt Wood, music direction by Miguel Campinho, and performers from CT, NYC and New Jersey, the powerful story 'Zorba' will engage all of the senses!
Music by John Kander
Lyrics by Fred Ebb
Book by Joseph Stein
Adapted from the novel Zorba The Greek by Nikos Kazanzakis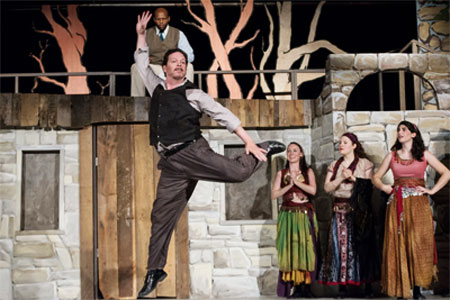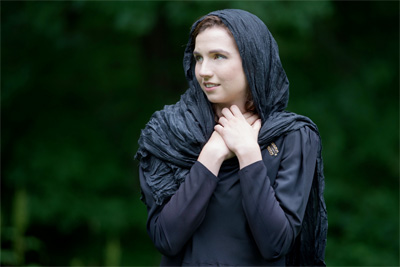 "Zorba presentation strikingly powerful" (5 out of 5 stars)
Review by JOANNE GRECO ROCHMAN



When an entire audience gasps out loud, you know a production has succeeded in transporting theatergoers directly into the world of the play. So it is with Clay & Wattles Theater Company, where 'Zorba' is stunning audiences at The Gary-The Olivia Theater in Bethlehem. Located just outside of Woodbury on the grounds of the Abbey of Regina Laudis, this theater's passionate portrayal of two unlikely friends is based on the novel 'Zorba the Greek.'

The music and lyrics are by Kander and Ebb with the book by Joseph Stein. By any standard this production, impeccably directed and choreographed by Sally Camm, is a major success. Niko, a quiet, scholarly type, is met by Zorba, an impulsive romantic, and a free spirit if ever there was one. Zorba convinces Niko to take him to Crete where Niko has inherited an old mine. Though complete strangers, Zorba convinces Niko that they will quickly become the best of friends and that Zorba, an expert when it comes to mines, will be a great asset. In very little time, Zorba with all his charm wins the love of Madame Hortense, beautifully and poignantly portrayed by Alika Hope, an Equity professional actress. Niko also falls in love but he is a lot more careful and moves slowly. Zorba's infectious passion has greatly influenced Niko, who deeply cares for the Widow, played with quiet dignity by Sophia Sapronov, also an Equity professional actress. The tender performances delivered by these two actresses could melt an iceberg.

Thomas Camm takes on the title role and continues to earn his star billing. If an actor is only as good as his most recent performance, then Camm is better than ever. Maurio Hines creates Niko as a likable character and sensitive love, but Hines type of love is more smoldering and less showy. His performance is as stunning as his rich tenor voice.

This production features so much talent including Nadya Encarnacion as the Leader of the splendid Greek chorus. Steve Sorriero, Martin Bonventre, Mark Vincent Mansilungan and Michael Hodges are admirable Admirals. Also in the cast are Alex Gellweiler, Barbara Salant, Megan Corcoran, Alyssa Marino, Alexandra Camm and Eliana Valdivieso.

Musical director Miguel Campinho has brought together Penny Brandt, Krystal Ankerband, Stephanie Peterson, Elliot Wallace and David Counterman, each a talented musician. But it also includes Savas Hadzisavidis, who plays the bouzouki. Hadzisavidis contributes significantly to the overall flavor of Greece.

The set by Matt Wood and Lesley Neilson-Bowman's gorgeous costumes leave no doubt as to the Greek influence in this play.


Tickets are still available—There are Season Subscriptions along with Senior and Group discounts for the 2016 season at The Gary The Olivia Theater web site.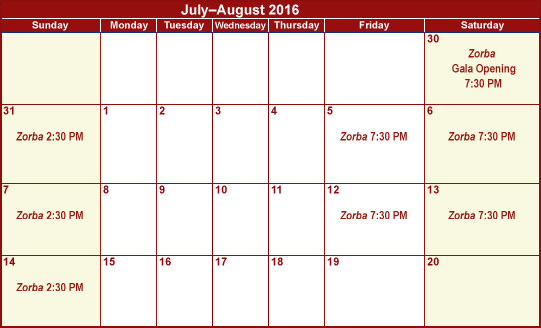 'Act One' Another Hit in Bethlehem—5 Stars!
Joanne Greco Rochman in her review of June 16th sums up the successful run of Act One which opened the 2016 summer season of the Clay & Wattles Theater Company. Act One is based on the critically acclaimed play by James Lapine, Act One, based on the autobiography of the same name by American theater icon, Moss Hart. Hart's autobiography is a love letter to the theater and the play offers a funny, rich and moving behind the scenes look at theater life on Broadway during the 1920's and 30's. Act One is also a "Rags To Riches" story about the son of a poor emigrant family in the Bronx and his rise to become one of the most successful playwrights (You Can't Take It With You, Once In A Life Time) and directors of his time.

To whet your appetite for the play, Mother Dolores Hart read an excerpt from Moss Hart's autobiography about his formidable Aunt Kate who had such an influence on his life and career. Mother's reading was recorded on our theater's stage. Our scenery designers and set builders have worked their magic again. The set for Act One had two floors! Go to Moss Hart Recording by Mother Dolores Hart.

Read review 'Act One' Another Hit in Bethlehem—5 Stars! by Joanne Greco Rochman, June 16, 2016.

| | |
| --- | --- |
| Opening Night! | Opening Night! |
| NYC based actor Jeff Ronan as Moss Hart | CT actress Barbara Salant as Aunt Kate |
Our final production for the 2016 season will be the Harvey Schmidt, Tom Jones musical The Fantasticks the world's longest-running musical (42 years and 17,162 performances at the Sullivan Street Playhouse in NYC) and the recipient of the Tony Honors for Excellence in Theater.
The Fantasticks
Music by Harvey Schmidt
Book and Lyrics by Tom Jones
Performances will run from September 17th—25th, 2016.

Don't miss the excitement of these three dynamic productions at The Gary The Olivia Theater this summer!
Season Subscription Tickets are available now—along with Senior and Group discounts for the 2016 season at The Gary The Olivia Theater web site.

The Gary The Olivia Theater is located at the Abbey of Regina Laudis, 249 Flanders Road, Bethlehem, CT 06751.

2015 SUMMER SEASON AT THE GARY—THE OLIVIA THEATER

The 2015 Season of the Clay & Wattles Theater Company at The Gary-The Olivia Theater began with a masterpiece—the lyrical and moving drama The Trip To Bountiful a play by Oscar Winner (To Kill A Mockingbird) Horton Foote. The performances, spear-headed by Sarah Robards as Carrie Watts, received rave reviews.


Carrie Watts (Sarah Robards) and Thelma (Caroline McCaughey) hymn singin'

Jessie Mae (Katie Keough) in Trip to Bountiful
is irrepressible!



From Joanne Rochman's Rave Review: 'Make the Trip to Bountiful!'
Director Sally Camm embraces the integrity of both place and play and allows the Clay & Wattles Theater Company to home in on the very essence of this poignant story.

Sarah Robards plays Carrie Watts, the protagonist of the play. Her performance is so unpretentious, so natural and warm that you forget she is acting.

Overall, this is a wonderful play about going back to one's roots. It's about learning to compromise in important relationships, and mostly it's about respect for one another and honoring one's personal freedom.

Read Joanne Greco Rochman's full review.

MAN OF LA MANCHA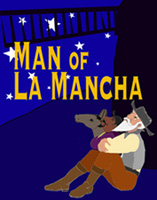 Our musical for the 2015 season was the Tony Award winning Man of La Mancha which ran from August 1st through the 16th. Friday and Saturday performances at 7:30 pm and Sunday matinees at 2:30 pm. The musical tells the story of the "mad" knight, Don Quixote, as a play within a play, performed by Cervantes and his fellow prisoners as he awaits a hearing with the Spanish Inquisition. Songs such as "All the Same", "Dulcinea", "I'm Only Thinking of Him", "The Impossible Dream", "I Really Like Him" and "Little Bird" will stay with you long after the curtain closes. The original 1965 Broadway production ran for 2,328 performances and won five Tony Awards, including Best Musical. Many considered this production the best ever at The Gary-The Olivia Theater.


| | |
| --- | --- |
| Thomas Camm as Cervantes/Don Quixote | Katie Keough as Aldonza/Dulcinea |
Left to Right: Anselmo (Korrie Blossey), Jose (Brother Kevin McElroy), Tenorio (Alex Gellweiler), Paco (Jonathan Gibbons), Pedro (Maurio Hines), Cervantes/Don Quixote (Thomas Camm), Antonia (Megan Corcoran), Maria (Barbara Salant), Juan (Steve Sorriero), and Fermina (Alexandra Camm).
Photo: Contributed Photo /Bryan Haeffele



"RAGS TO RICHES"—A SPECIAL CONCERT OF MUSIC, THEATER AND DANCE TO BENEFIT THE GARY-THE OLIVIA THEATER
Saturday, September 19th from 3-6 pm
A third performance, a Concert/Fundraiser for The Gary-The Olivia Theater entitled Rags To Riches will feature special guest artists performing dramatic readings, songs, and dances. Don't miss Mother Dolores Hart reading from Nikos Kazanzakis' Zorba The Greek, Hannah Dubner performing from Funny Girl, Korie Blossey, Maurio Hines and Katie Keough performing from Porgy & Bess, Meghan Corcoran from My Fair Lady, Thomas Camm from Zorba and Man of La Mancha, Nico Apicella from Huck Finn, and more with a full cast finale guaranteed to lift the spirits.
Dan Ringuette, Music Director
Sally Camm, Director/Choreographer.
After the performance concert goers will enjoy local cheeses from the Northeast, wines and artisan chocolates by Philippe Niez of The Mayflower/Grace Inn & Spa and a "meet and greet" with the performers.

| | |
| --- | --- |
| Maurio Hines and Katie Keough | Korrie Blossey |
Performers who received rave reviews in the Clay & Wattles Theater Company's
Man of La Mancha will be featured in Rags To Riches on Saturday, September 19th.


Tickets for this gala event are $45 per person and may be purchased online or at the box office one hour before the show.
For more information visit the Clay & Wattles Theater Company website or call the theater company at 203 273-5669.
To receive the theater Newsletter send an e-mail to: info@thegarytheolivia.com.
Friend the Clay & Wattles Theater Company on Facebook.

CONNECT TO THE SOURCE—FARMSTEAD FESTIVAL/THEATER FUNDRAISER Saturday, October 17, 2015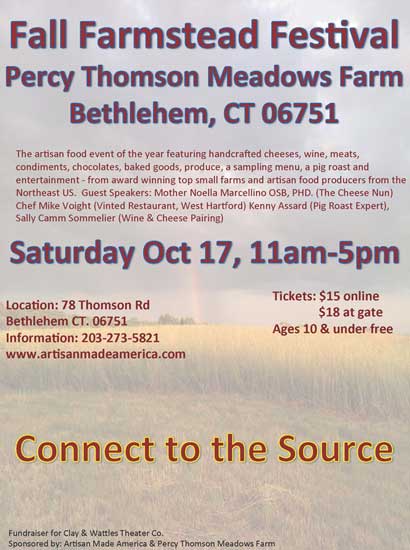 Organized by Artisan Made Northeast (specialty food distribution and online retail since 2003) and Percy Thomson Meadows Farm (The Assard family at Percy Thomson has been farming in the Bethlehem area for over 100 years) the festival will feature food and wine pairings, an educational pig roast presented by Kenny Assard of Percy Thomson, entertainment and much more!

What makes this festival truly unique is the collaborative spirit between the small farms and artisan food producers. Sample from the tasting menu (each food vendor will provide one item for sampling and Certified Sommelier Sally Camm will pair the foods and wines on the tasting menu) to whet your appetite and then purchase foods and wines directly from the small farms and artisan food producers for your own entertaining with family and friends. Come celebrate with us the fresh, complex flavors of local and regional foods and wines!

Enjoy the opportunity to chat with the cheese makers, bakers, chocolate makers, wine makers and farmers and the beautiful autumn views from the Assard family's hilltop family farm – a window into the world of handcrafted, artisan made foods.

Dark Horse, a blue grass band led by Brian Noel will provide the musical entertainment for the festival.

Sister Noella Marcellino, OSB will be guest speaker at the fall-Farmstead Festival. Sister Noella known fondly as the "Cheese Nun" is internationally recognized as one of the foremost experts in the US in the art of natural-milk cheesemaking. She received her Ph.D. in Microbiology from the University of Connecticut and received a Fulbright Grant to study the biodiversity of cheese-ripening fungi and the natural history of traditional cheese caves in France. She was the recipient of the prestigious French Food Spirit Award.

She will participate in a Q & A session in the education tent where festival goers may ask her questions on cheese, cheesemaking and the state of artisanal cheesemaking in the USA.

At the festival Sister Noella will be surrounded by some of top cheeses made in the US today such as the Alpine style Bloomsday and the Gruyere style Dairyere both from Cato Corner Farm in CT, goat's milk Chevre and the soft ripened Vespers from Beltane Farm in CT and a special selection of Vermont cheeses including Camembrie and Lakes Edge from Blue Ledge Farm, Organic Thistle Hill Tarentaise, Boston Post Dairy's Eleven Brothers and Tres Bonne aged Goat's milk cheeses, Goredawnzola and Boucher Blue from Green Mountain Blue Cheese, the Vermont Herdsman Asiago style from Parish Hill Creamery and the organic Champlain Valley Triple Creams.

Don't miss Sister Noella in her element talking cheese surrounded by small farms and artisan food producers at the fall-Farmstead Festival!
The Cheese Nun DVD will also be available to purchase at the festival.

WHERE:
PERCY THOMSON MEADOWS FARM
78 Thomson Rd.
Bethlehem CT 06751

WHEN:
Saturday, October 17, 11am-5pm
Tickets: $15.00 on-line
$18.00 at the Gate
Children aged 10 and under: Free
Saturday October 17, 2015 11am-5pm
The festival is under a tent so come rain or shine!

For information and tickets visit Artisan Made America's new web site.
Call 203 273-5821 or e-mail info@thegarytheolivia.com.

2014 SUMMER SEASON AT THE GARY—THE OLIVIA THEATER
The 2014 Season opened in June with performances of one act plays Blind Date and The Actor written by American Playwright Horton Foote. These beautifully written comedies set in the fictional town of Harrison, Texas delighted the audiences.
The musical for the 2014 season which received rave reviews was the classic Irving Berlin musical Annie Get Your Gun.



From the opening strains of the overture played by the fine eight-member orchestra under the direction of Jerold Goldstein, this production did not disappoint. For me, the show actually began when we got our first sight of the magnificent scenery designed and painted by Matt Wood...
New York based actress Chandra Albritton was cast in the title role and was a pleasure to watch. She nailed Annie's spunkiness and sang her many musical numbers beautifully. Thomas Camm was also strong in the part of Frank Butler and his vocal ability matched that of Ms. Albritton perfectly.

From Opening Night Review by Nancy Sasso Janis