Mother Dolores Hart is a remarkable woman with a remarkable story – one of love, devotion and faith.
Maria Shriver, author of
Just Who Will You Be
The story of Dolores Hart teaches us to seek God regardless of where we are – in a summer storm, in prayer or even in front of a camera.
Raymond Arroyo, host of
The World Over Live, and EWTN news director
Read this fascinating story to learn how what seems like 'running away', is in reality 'running to' Love.
Maria Cooper Janis,
author/daughter of Gary Cooper Off Camera
This powerfully honest book is one of the most unusual and inspirational I have ever read. . . . This intelligent page turner by Mother Dolores makes you laugh, makes you cry and most of all, makes you think.
Tab Hunter, actor
The Ear of the Heart: An Actress' Journey from Hollywood to Holy Vows
How could I throw away a promising acting career for the monastic life of a cloistered nun?
I left the world I knew in order to reenter it on a more profound level. Many people don't understand the difference between a vocation and your own idea about something. A vocation is a call—one you don't necessarily want. The only thing I ever wanted to be was an actress. But I was called by God.
Mother Prioress Dolores Hart in the Preface to The Ear of the Heart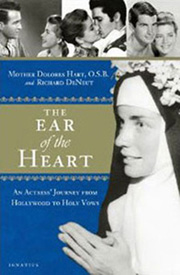 Mother Dolores' acclaimed autobiography The Ear of the Heart: An Actress' Journey from Hollywood to Holy Vows was released in 2013 and as of 2015 is in its third printing.

"The actress Dolores Hart stunned Hollywood in 1963 when, after ten highly successful feature films, she chose to enter a contemplative monastery. Now, fifty years later, Mother Dolores gives this fascinating account of her life, with co-author and life-long friend, Richard DeNeut. "Dolores was a bright and beautiful college student when she made her film debut with Elvis Presley in Paramount's 1957 Loving You. She acted in nine more movies with other big stars such as Montgomery Clift, Anthony Quinn and Myrna Loy. She also gave a Tony-nominated performance in the Broadway play The Pleasure of His Company and appeared in television shows, including The Virginian and Playhouse 90. An important chapter in her life occurred while playing Saint Clare in the movie Francis of Assisi, which was filmed on location in Italy.

Born Dolores Hicks to a complicated and colorful Chicago family, Mother Dolores has travelled a charmed yet challenging road in her journey toward vocational service, serenity and, yes, love. She entered the Abbey of Regina Laudis at the peak of her career, not in order to leave the glamorous world of acting she had dreamed of since childhood, but in order to answer a mysterious call she heard with the 'ear of the heart.' While contracted for another film and engaged to be married, she abandoned her previous life to answer a call from God." (Source: Ignatius Press)

THE AUTHORS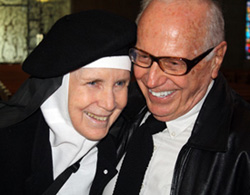 Mother Dolores Hart, O.S.B., is Dean of Education at the Abbey of Regina Laudis. Richard DeNeut was the West Coast bureau chief for the photo agency and syndicate Globe Photos, which covered Hollywood for national and international publications. He has written for television and co-authored actress Patricia Neal's autobiography, As I Am. He compiled and edited Inside Hollywood: 60 Years of Globe Photos.

Read the Press Release from Ignatius Press.
The book is available in the Monastic Art Shop.
To order the book on-line, visit Ignatius Press.

Read more about the vocation of Mother Dolores Hart.

PHOTO GALLERY



Use your pointer to scroll the list horizontally. Click to enlarge a photo.


EXCERPTS FROM THE BOOK
"I had not chosen to escape my responsibilities in life by secluding myself from reality. I believed that if there is to be an ultimate and real salvation for the whole of mankind, it must begin by very personal involvement." [p 241]

"When you first enter a monastery, you feel that you are on the outside of something and that, though it is invisible, there is a perceptible pulsing heart – a center of truth and meaning that promises to be more real than anything you have ever known and draws you toward itself. That's your path in a sense – in toward that deeper truth." [p 263]

"I did not fear the completely different life I was heading into, nor did I feel a sense of loss for the life I was leaving. I felt quite excited, in fact, not unlike what I felt on opening night of a play. It was a time full of love. As I understand it now, where there is a true sign of the Spirit, there is peace and joy." [p 196]

"I am not easily persuaded by 'religious' answers, in spite of the fact that I am a Roman Catholic convert and a member of a monastic community. I've found my answers step by step. The act of consecrating my life – body and soul – as a medium for God seemed a natural extension of my dedication to the media of theater and film as a professional actress." [p 424]

"In a sense, I never really felt like a person until I came to Regina Laudis. Staying was not a compromise, but, in fact, the real challenge of my life." [p 264]

"I lay awake on the cot for a long time. I reached out my arm in the darkness. I could touch the opposite wall with my hand. I lay there, terrified by the enormity of the step I had taken. I began praying as hard as I could that, in spite of the isolation engulfing me, the love in my heart was God Himself trying to strike, if not lightning, at least a match." [p 202]

"If, in the final analysis, I have made a mistake, if I have given up the real treasure of life, I will have at least the satisfaction of knowing that I was wholly committed to my choice. But if I am right, then my joy will be the fullness of a final communion of love with the same persons who question, tolerate, kid or condemn my choice." [p 241]

"We try to practice responsible stewardship. We've learned to submit to and cooperate with the weather, the land and the animals. Whether we are clearing acres of brush or fields of stone, preparing a seedbed or building a road, milking a cow or managing a whole beef herd, we have had to enter into the rhythm of life itself." [p 300]

"I made most of the door latches in the monastery, many chairs and tables—I'm particularly proud of the television cabinet I designed and made for our common room. I helped Father Prokes build the sheep barn, which was a major undertaking. I remember the first thing he did was lean a tall ladder against the side of the building and send me to the very top to nail down siding. It was two stories! I thought I would die. But I did it. From then on, I proudly wore a tool kit on my belt. —On occasion, I still do." [p 304]

Mother Augusta Collins, O.S.B.: "I just happened to be at Regina Laudis at the time of Mother Dolores' Consecration. I asked for a parlor with her. I told her very frankly about the challenges I was facing. She wasn't shy to address my concerns in very down-to-earth terminology. I wouldn't have believ0ed a nun could be that modern. She absolutely saved my integrity." [p 290]

Mother Praxedes Baxter, O.S.B.: "I met frequently with Mother Dolores. She is motivated to unlock – whether it comes as an encouragement or a challenge. […] She restored my hope in the possibilities of my life." [p 291]