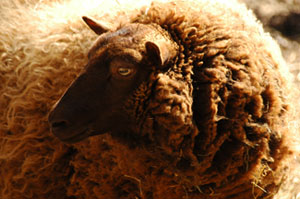 The Abbey has specialized in raising Shetland sheep for the over a decade. Through the care of our flock of approximately 30 sheep, we see their yearly life cycle as intimately connected with the seasons, the life of the community and the liturgy.

In the late fall, during the short days of Advent, the ewes are bred on our land. By Christmas time, they are pregnant and spend the months of winter gestating within our main sheep barn. During the winter and throughout the year, we repair fences and clear brush from the pastures with the help of interns and guests, along with tending to the flock.


As we enter in the season of Lent and the days grow longer, we begin preparations for lambing, which begins in the early spring during Eastertide. With the help of many, the three shepherdesses, known as the Shepherd's Group, keep round the clock watch to assist the ewes during lambing. Twins are typical and lambing season is always full of great color and marking surprises as well as the joy of naming each one of our lambs. Each year as a part of our Mandatum meal on Holy Thursday, one lamb is chosen and blessed as the Paschal lamb, representing the sacrifice of Jesus.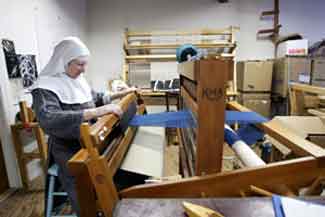 By mid spring, the flock is hand-sheared of their wool, which is spun into yarn and sold in our Monastic Art Shop. Shetland sheep have exceptional wool texture, with color possibilities ranging from white to black, browns, tans and even blue black. The lambs are weaned by summertime and ready to join the rest of the flock on our rocky grass pastures, where they remain until autumn. We have breeding stock for sale as well as fiber producing animals. Wool and tanned sheepskins are also available for sale at our Art Shop. Please call ahead for availability.


The Abbey Sheepfold is located within the
Monastic Enclosure
and is not open to the Public at Large.


During summer months some sheep will be in the pasture next to the path to our Neapolitan Crèche. Visitors are welcome to watch the sheep. Please do not feed the sheep. Beware that the fence is electric.

GALLERY

Abbey Flock and Its Guardians