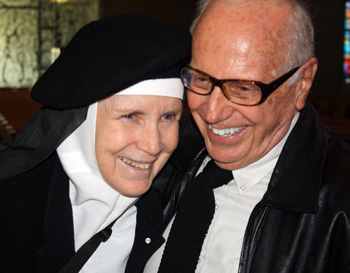 On January 26, 2016, Richard DeNeut, beloved friend of Mother Dolores Hart and the Regina Laudis Community passed away in Los Angeles. For 27 years Dick was the West Coast bureau chief for Globe Photos which covered Hollywood for national and international publications. He compiled and edited Inside Hollywood: 60 Years of Globe Photos. A brilliant writer, Dick was co-author with Mother Dolores of actress Patricia Neal's autobiography As I Am and Mother Dolores' own acclaimed autobiography The Ear of the Heart: An Actress' Journey from Hollywood to Holy Vows which was released in 2013.

Dick was a child actor, beginning his acting career at the age of 4 when he was cast as a member of the TV show "Our Gang". After appearing in film and television shows before he was a teenager, Dick attended Glendale College and then UCLA. There he forged a life-long friendship with fellow freshman Carol Burnett after partnering with her in an acting-class scene.

Read Dick DeNeut's full obituary in Variety.

In Dick's words...
Here Mother Dolores reads the INTRODUCTION to her autobiography The Ear of the Heart: An Actress' Journey from Hollywood to Holy Vows. In the Introduction Dick DeNeut recounts meeting Mother Dolores for the first time in Hollywood and speaks of their friendship and life-long collaboration. It is a friendship that extended to the whole community of Regina Laudis. (Used with permission of Ignatius Press)



Not only was Dolores beautiful; she was bright and witty and very down-to-earth—a killer combination. Dolores didn't have starlet glitter. She had a glow and an openness that put me in mind of happy college days. She could talk about something besides herself, and I was impressed with the way she related to Susie that night—as if they were high school confidantes. A big plus was her wicked sense of humor with well-placed zingers that found in me an especially appreciative audience.