The Spirit of the Lord is upon me because He has chosen me. In gratitude for the call of Suzanne, nourished in a home of Faith, where the love of learning and the desire for God took precedence, and which laid the foundation for Suzanne to respond wholeheartedly, first to the community in New York, and then to Benedictine life as it was presented through Ora et Labora in the Internship Program, and then as a postulant.

May Suzanne take on today, as she receives her monastic habit, all those people she loves, all who have been a part of the habit she will be putting on today and will accompany her for the rest of her life.

Let us pray to the Lord.
Mother Abbess' Prayers of the Faithful for Clothing Mass


The spirit of the Lord is upon me because the Lord has chosen me.
Isaiah 61:1, from the 1st Reading of the Mass for Gaudete Sunday
On December 14, 2014, Gaudete Sunday, the Abbey celebrated the Monastic Investiture of postulant Suzanne Joy Erickson who was clothed in the monastic habit and received the name Sister Jeanne Paul. Father Robert Tucker, Pastor of St. Anthony of Padua Church in Litchfield CT was the celebrant and homilist at the Mass. As is our custom at the Abbey, at Mass and throughout the day Suzanne wore an outfit of her choosing celebrating the beauty she brings to this step. (Shown at left with Mother Abbess and Mother Prioress.) Suzanne's parents Karen and Lynden Erickson, family members and Pastor Jon Tyson and colleagues from her community at Trinity Grace Church in New York City participated in the liturgy and celebration.

Suzanne grew up in Ottawa, Ontario and holds dual Canadian/American citizenship. Her father, a native of Ontario, and her mother, a native of Southern Illinois, met as students at the University of Chicago. Dr. Erickson, a laser physicist, was a member of the National Research Council of Canada in Ottawa. Suzanne received a Bachelor of Applied Science degree with honors in Engineering Physics and a Master of Applied Science in Electrical Engineering from the University of Toronto. She worked as a fiber-optics product engineer on a team bringing a product from lab bench to full-scale production. Suzanne put her gifts for organization and detail to good use in her various professional positions as research assistant and administrator in the field of electrical engineering and as a GRE/GMAT instructor and teacher trainer at Kaplan, Canada. Although gifted as a scientist, she expressed her artistic side in the making of quilts. Suzanne's mother taught her how to sew as a child and she later developed that skill in the midst of her professional career.
She found that designing quilts, the ordering of discarded pieces to create a thing of beauty, was a source of integration and gave her great peace.

In 2007 Suzanne moved to New York City to take on the position of executive administrator of Trinity Grace Church during its inception. Trinity Grace Church is a non-denominational church, composed of a family of neighborhood churches called parishes, based in "...belief in the authority of the Christian scriptures for life and practice." From 2007-2011 Suzanne managed the day to day operations of this growing complex organization and assisted the lead pastor in the coordination of numerous committees and activities. This work gave Suzanne great joy, as for most of her life she had found a sense of community and belonging in the welcoming fellowship of various Protestant churches.

Suzanne joined the Monastic Internship at the Abbey in 2011 and during this time discovered her love for the dairy and the herd, especially for a milking shorthorn cow named Red Wing Lily. During her internship she converted to Catholicism and in May 2013 entered Regina Laudis. As a postulant Suzanne has rediscovered her gift for music particularly in playing piano. She has taken on more responsibility for the dairy herd, bakes wonderful breads in the Abbey bakery, and brings her engineering skills to her work in the Cellarer's Department.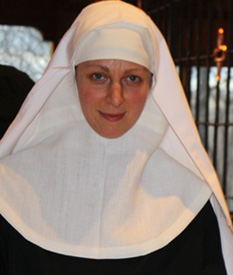 Since Suzanne's Clothing took place on the second anniversary of the shooting at Sandy Hook Elementary School in Newtown, so close to our Abbey, Father Tucker began his homily by saying the name of each child and teacher lost in the tragedy. His question to each of us was: if tragedy were to strike, what would we want unwrapped in ourselves as people? As we celebrate Suzanne being clothed in the monastic habit, we are each asked to "clothe" ourselves in light and joy, gifts that come from God and not ourselves. As Mary and Joseph traveled to Bethlehem to fulfill the census, they counted on God for everything. On this Gaudete Sunday are we choosing joy and willing to find the best in every situation—or rather clutching at straws; sinking in our pride, indifference, and anger at God?



Don't Forget Joy! Man's heart desires joy. Every family, every people, aspires to happiness. It hurts to see Christians with a bitter face, restless with bitterness because they are not at peace...Be Missionaries of Joy!

Pope Francis, General Audience in St. Peter's Square, Gaudete Sunday 2014


As Father Tucker blessed Suzanne's habit he prayed:

May this woman wear these garments as an outward sign of interior joy

. As he blessed her veil he prayed that the blessed veil would

...cover Suzanne; as she is a gift to and from the Lord, that she will count on the Lord as her joy and hope.




Gallery of Monastic Investiture of Sister Jeanne Paul